Efforts to tackle modern day slavery are stalling as the number of companies disclosing anti-slavery measures within their supply chains has nearly halved, according to new analysis.
International body the Chartered Institute of Procurement and Supply (CIPS) called on the Government to better enforce critical transparency rules that are being "ignored".
Some 29% of organisations required to produce a modern slavery statement have not yet submitted it to the Government registry for 2022, the CIPS found.
Companies with a turnover of more than £36 million a year are required to publish an annual statement outlining the steps they are making to address slavery in supply chains, according to the UK's Modern Slavery Act 2015.
But the registry saw just 8,074 statements submitted in 2022, a sharp 46% drop from the 15,019 submitted the previous year, the CIPS found.
It is despite more than a third of organisations saying they think modern slavery abuses are most likely to occur in the UK, as part of their supply chain, followed by 18% who said China and less than a 10th who said India, according to data from the registry.
The CIPS noted that companies have a grace period of six months to produce 2022's statement, but said efforts to submit statements could be waning without more pressure from the Government.
David Taylor, chief operating officer for the CIPS, said: "It is an open secret that vulnerable adults and children are exploited every day to produce the goods and services we consume.
"Organisations are facing enormous pressures across their supply chains and, in these circumstances, it might be tempting to turn a blind eye to modern slavery and prioritise other challenges.
"But it is precisely during times of economic hardship that we must be vigilant and keep up our efforts to tackle this issue."
He added that the data is a vital resource to help tackle modern slavery but is currently being ignored.
The Government is expected to introduce a new modern slavery Bill to Parliament this year that would make submissions to the registry mandatory for qualifying businesses.
But the body pointed out that the Government has not appointed someone to fill the post of independent anti-slavery commissioner since April last year, a role required to scrutinise legislation and hold companies to account.
Dame Sara Thornton, a modern slavery professor at Nottingham University and former commissioner, said: "While we wait for new modern slavery legislation and a new independent anti-slavery commissioner, too many instances of exploitation, abuse and harm will be allowed to continue unseen."
"That is where our real failure lies," she stressed.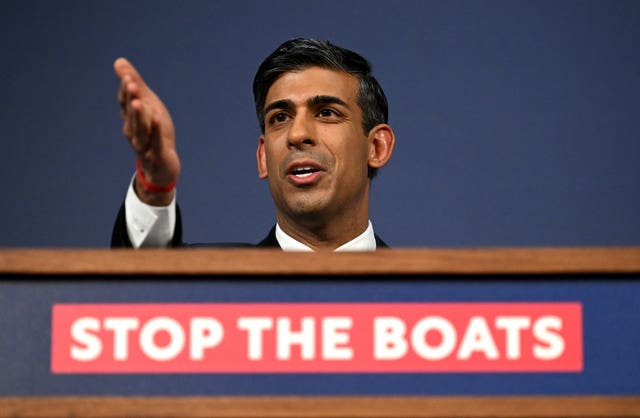 Former prime minister Theresa May appealed for such victims to be excluded from measures within the Illegal Migration Bill, which seeks to remove protections for people who are judged to have entered the UK illegally.
Mrs May warned the Bill will "drive a coach and horses through the Modern Slavery Act, denying support to those who have been exploited and enslaved".
Home Office minister Robert Jenrick, replying for the Government, said it sees "mounting evidence" of abuse of the modern slavery system.