Rishi Sunak has pledged that "political correctness" will no longer hamper a crackdown on grooming gangs, as critics warned the Government against an excessive focus on race.
The Prime Minister is in northern England on Monday to announce a new set of measures ministers say will protect young women and girls from sexual abuse, which will also see ethnicity data used to support police investigations.
Labour leader Sir Keir Starmer noted the "vast majority" of sexual abuse cases do not involve ethnic minorities after Home Secretary Suella Braverman singled out British Pakistani men over concerns about grooming gangs.
Mr Sunak is setting out the plans to protect children from abuse as he attempts to portray his party as tough on crime just over a month ahead of the May local elections.
It will be led by police and supported by the National Crime Agency, with membership made up of officers with "extensive experience" of undertaking investigations into grooming gangs.
The plan will also see ethnicity data used to assist the police in investigating grooming gangs, something ministers will argue is necessary to ensure "cultural sensitivities" are not used to prevent criminals being caught.
Mr Sunak warned that for too long "political correctness has stopped us from weeding out vile criminals who prey on children and young women".
He vowed: "We will stop at nothing to stamp out these dangerous gangs."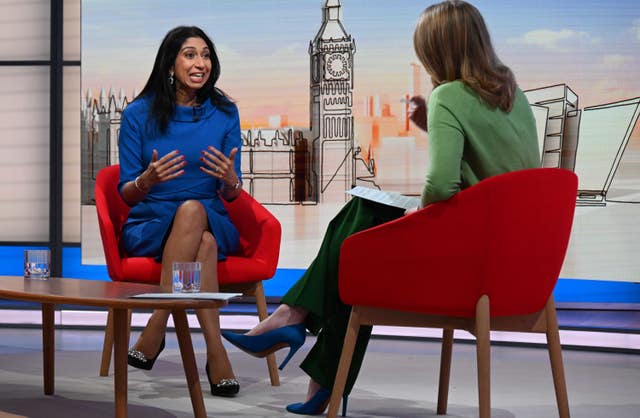 Ms Braverman on Sunday accused authorities of turning a "blind eye" to signs of abuse over fears of being labelled "racist" or "bigoted".
Alluding to high-profile cases including in Rotherham and Rochdale that involved groups of men of mainly Pakistani ethnicity, she pointed to a "predominance of certain ethnic groups – and I say British Pakistani males – who hold cultural values totally at odds with British values, who see women in a demeaned and illegitimate way and pursue an outdated and frankly heinous approach in terms of the way they behave".
Previous Home Office-commissioned research found most group child sex offenders are men under the age of 30 and the majority are white, while adding there is not enough evidence to suggest members of grooming gangs are more likely to be Asian or black than other ethnicities.
NSPCC chief executive Sir Peter Wanless said it is "vital we remember that any child can be a victim of child sexual exploitation and adult perpetrators do not just come from one background.
"Sexual predators will target the most vulnerable and accessible children in society and there must be a focus on more than just race so we do not create new blind spots that prevent victims from being identified."
He welcomed the Government's "focus" on the issue, but said that measures "must be backed up with funding for services to help child victims recover and support for a justice system that is struggling to cope".
"Better data collection by law enforcement as part of the package of measures announced today would help ensure all those working to protect children have a clearer, evidence-based understanding of child sexual abuse and exploitation so it can be tackled more effectively."
Ms Braverman also announced plans for a consultation on introducing a mandatory duty on professionals working with children to report concerns about sexual abuse.
Sir Keir said Labour called for that 10 years ago, telling LBC Radio: "That is a decade lost and I think the Prime Minister and others have to really explain why they have wasted that decade."
The announcements come after the Independent Inquiry into Child Sexual Abuse last year described sexual abuse of children as an "epidemic that leaves tens of thousands of victims in its poisonous wake".
The seven-year inquiry into institutional failings in England and Wales concluded that people in positions of trust should be compelled by law to report child sexual abuse.
Shadow home secretary Yvette Cooper labelled the Government response "hopelessly inadequate".
She said: "Only 11% of child sexual abuse cases ends with a charge – down from 32% seven years ago – and the court delays have got far worse with victims waiting years for justice."
Ms Cooper told BBC Radio 4's Today programme: "If they were serious about tackling child abuse and tackling child sexual exploitation, why are they cutting support for taking action on trafficking? Why are they not having proper support for victims?"