Just Stop Oil said that the climate crisis is "more terrifying than 10 years in a British cell", as two of its activists face jail over their protest at the Dartford Crossing which caused traffic gridlock.
Morgan Trowland, 40, and Marcus Decker, 34, were both found guilty of causing a public nuisance after they used ropes and other climbing equipment to scale the Queen Elizabeth II Bridge.
Prosecutor Adam King said that police closed the bridge, which links the M25 in Essex and Kent, to traffic and that drivers were forced to use the tunnels instead.
He said the bridge was closed from 4am on October 17 last year to 9pm the following day.
Jurors found both defendants guilty, by unanimous verdicts, of causing a public nuisance following more than two hours of deliberation at Basildon Crown Court.
The pair have already spent more than five months in custody, having been remanded at their first appearance at Southend Magistrates' Court on October 20.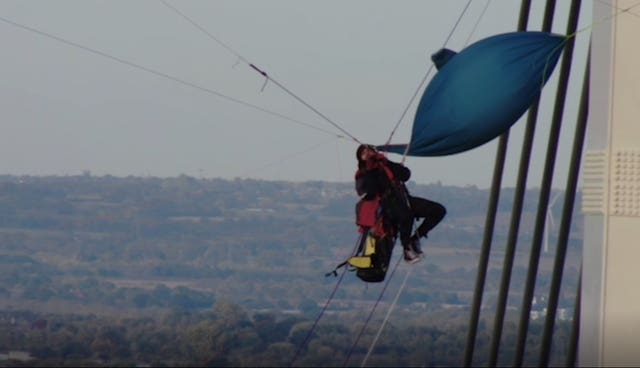 He added: "We're dealing with significant nuisance that's been caused."
Sean Irish, of Just Stop Oil, said outside court: "Just Stop Oil will not stop because of a crackdown.
"The climate crisis is more terrifying than 10 years in a British cell."
He said the verdicts were "quite disappointing".
Mr Irish continued: "We've seen in the Old Bailey that a jury has the right to acquit based on a conscience, whether they were aware of that I don't know, but it's disappointing to see that they've come back with a guilty verdict."
Energy Security Secretary Grant Shapps said he welcomed the guilty verdicts.
Writing on Twitter, he said: "The right to protest cannot be allowed to outweigh the right of the law-abiding majority to go about their day free from selfish and antisocial disruption.
"We are cracking down on these guerilla tactics which cause misery for the majority."
Another person missed the funeral of their best friend of 35 years, the force said, and a business lost more than £160,000 in earnings.
Chief Superintendent Simon Anslow, who led the force's response to the incident, said: "The actions of Trowland and Decker were incredibly dangerous; for themselves, for the officers who were tasked with dealing with them and for the many, many people whose lives were disrupted as a result."
Prosecutor Mr King said that the protesters ascended to a point close to 200ft above the road and unfurled a "giant Just Stop Oil banner" and "rigged up hammocks and stayed there".
"This closure caused gridlock for miles around throughout that period, which we say was the point," said Mr King.
"It was because of the disruption that the incident made national news."
He said the men came down at about 5.30pm on October 18 "with the help of police and a very tall cherry picker crane", but the bridge was not reopened to traffic until later.
Trowland had said in evidence: "We climbed it (the bridge) to deliver a warning message, to put up a banner saying Just Stop Oil and to speak that message through interviews with journalists."
Trowland, of Islington, north London, and Decker, 34, of no fixed address, denied causing a public nuisance but were both found guilty.
Judge Shane Collery KC remanded them in custody to be sentenced on April 13.