The King and Queen will each have four Pages of Honour supporting them on the day of the coronation – a group of schoolboys who are family friends or close relatives.
Prominent among them is the future monarch Prince George, aged nine, but they will all be known well to Charles and Camilla.
On the historic day as the procession of the King and Queen, their regalia, senior clerics, and other figures makes its way through the nave of Westminster Abbey, the pages will hold the robes of some of the leading individuals taking part.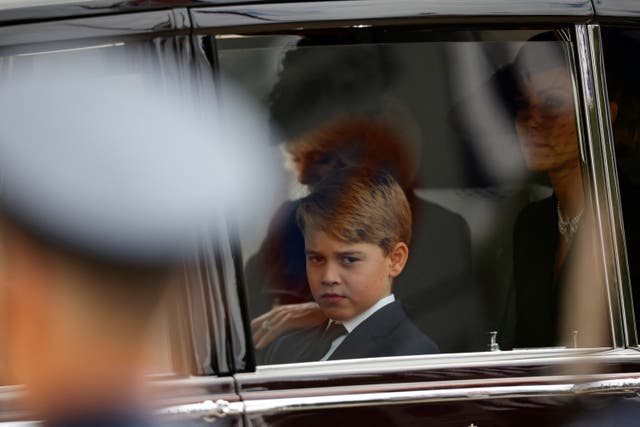 The Queen's Pages of Honour will be her three grandsons, twin boys Gus and Louis, aged 13, by her daughter Laura Lopes, and 13-year-old Freddy, by son Tom Parker Bowles, and her great-nephew, Arthur Elliot, 10.
The 12th Duke of Devonshire, when aged nine, served as a page during the late Queen's 1953 coronation and was tasked with carrying the train of his grandmother, Mary Cavendish, Dowager Duchess of Devonshire and Mistress of the Robes.
In an interview with Sotheby's website, he said: "My uniform, it's still at Chatsworth, consisted of a pale yellow frock coat with blue cuffs, lace jabot at my throat, cream breeches, white silk stockings – held up by a suspender belt (garter) which I was terrified my school friends would find out about – black pumps with red heels and silver buckles and a sword on its belt."
It is likely the eight pages chosen by King will wear something similar when they perform their duties on the big day.
But there was another mishap when they arrived with his father's outfit becoming ripped: "My sword had become entangled in the lining of his robes and a four foot tear was the disappointing result.
"Luckily I don't remember what he said but the drama was swiftly ended as this sort of accident had been anticipated by the organisers and someone with a needle and thread appeared immediately and the running repairs were swiftly made."
The rest of the duke's role in the coronation went without a hitch and he successfully kept his grandmother's train from slipping under her feet.