The UK Government must intervene and provide ministerial direction to civil servants tasked with making "invidious" political decisions in Northern Ireland, a trade union boss has urged.
General secretary of the FDA union Dave Penman has written to Northern Ireland Secretary Chris Heaton-Harris expressing concern about the position senior civil servants have been placed in amid the current powersharing impasse at Stormont.
Mr Penman's call for a Government minister to instruct civil servants at Stormont would represent a move back towards the controversial direct rule form of governance for the region.
Currently, departmental permanent secretaries are effectively running public services in Northern Ireland in the absence of elected ministers.
The DUP is currently blocking devolved governance at Stormont in protest at post-Brexit trading arrangements.
Mr Heaton-Harris has passed legislation at Westminster to give local civil servants more latitude to take decisions that would usually be the responsibility of politicians.
Many of those will involve cuts to services if, as anticipated, Mr Heaton-Harris passes a budget for Northern Ireland that involves a significant real terms cut in spending power in this financial year.
The FDA, which represents the higher ranks of the civil service, said its members face the prospect of making decisions that will have a detrimental impact on the most vulnerable in society.
In his letter to Mr Heaton-Harris, which was first reported by the Belfast Telegraph, Mr Penman wrote: "The FDA is certain you appreciate that no civil servant has accepted a post with the NICS (Northern Ireland Civil Service) with the intention of taking decisions that ought properly to be taken by democratically elected ministers.
"The current model places our members in an invidious position, requiring politically-impartial advisors and administrators to adopt a role that demands they take political decisions."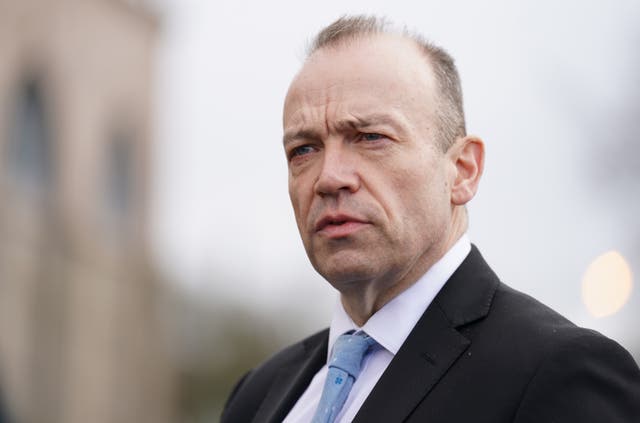 "FDA members who are Accounting Officers, and those who support them, are being tasked by you to implement this challenging Budget, requiring exceptionally difficult decisions to be taken which fall far outside the scope of what should be decided by officials operating without the direction and control of a minister," he wrote.
"Whilst many of those decisions will be significant and controversial, they also present a serious risk of causing detrimental impacts to the most vulnerable in society in Northern Ireland, including children, young people and those relying on the health service.
"The FDA would respectfully ask that you legislate to amend the provisions of the Northern Ireland (Executive Functions) Act 2022 to empower a minister from your department to provide Ministerial Direction to NICS colleagues so that decisions of a political nature are taken at the right level, with suitable democratic accountability, rather than by civil servants acting in the absence of ministers."
A Northern Ireland Office spokeswoman said: "The UK Government remains of the view that the restoration of devolved institutions, in line with the vision of the Belfast (Good Friday) Agreement, offers the most immediate way of delivering local governance and prosperity in Northern Ireland.
"The Secretary of State has expressed his disappointment that for four out of the past six years, Northern Ireland has been without locally elected representatives to take the key strategic decisions to, for example, protect public finances.
"The UK Government's priority remains to see restored devolved institutions in place to take the decisions and action needed to address the challenges facing Northern Ireland at this time."