A Labour government would force fly-tippers to remove litter as part of "clean-up squads", the party said as it highlighted research showing nearly 3,000 incidents of dumped waste per day in England.
As both main parties ramp up commitments on law and order ahead of May's local elections, Labour pledged to "clean up Britain" as it pointed to Government data on fly-tipping showing cases increased by a third over the last 13 years under the Conservatives.
The number of incidents of rubbish blighting highways and footpaths rose from 819,571 in 2010 to 1.09 million in 2022, according to the figures.
That amounted to an average of 125 incidents an hour, or 2,989 a day, Labour said.
Shadow justice secretary Steve Reed said: "The Conservatives have let neighbourhoods be buried under an avalanche of litter and dumped rubbish – leaving communities feeling broken and powerless down a spiral of decline.
"A Labour government will clean up Britain. We will introduce clean-up squads to ensure those who make the mess, clean up the mess."
It comes amid competing efforts by Labour and the Conservatives to sell themselves as the tough-on-crime party by putting crackdown plans at the heart of their campaigns in the run-up to England's local elections.
During a visit to East Lancashire on Tuesday, Sir Keir Starmer said Labour was "very much the party of law and order" as he accused the Tories of failing to do enough to tackle antisocial behaviour.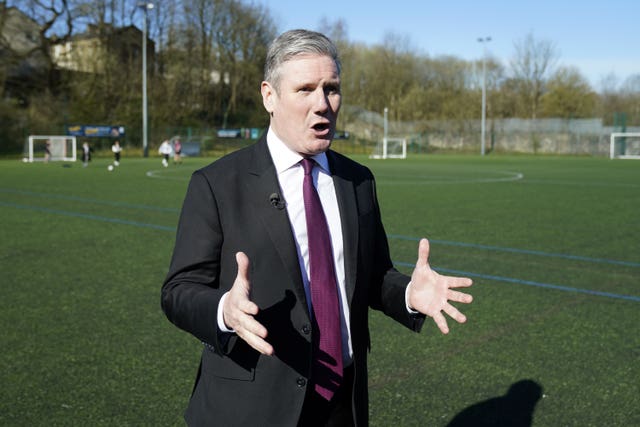 "They're pretty fed up with the Government and they don't think that the measures the Government's put in place are making any difference."
Responding to Labour's criticisms, vice chairman of the Conservative Party, Craig Tracey, said: "We will take no lectures on crime from the people who tried to keep violent foreign criminals in this country.
"Our Anti-Social Behaviour Plan gives the police new powers to crack down on fly-tipping, requires offenders to clean up our communities and invests in preventative measures to stop anti-social behaviour from taking place.
"While Labour dodge the difficult decisions, the Conservatives are cracking down on crime."