A mother found guilty over the death of her two-year-old daughter had told a 999 operator she was "really scared" while she described bruising to the toddler's head and face.
Audio of Sinead James's panicked phone call to the emergency services after finding Lola James injured and unconscious was released just after a jury at Swansea Crown Court retired to consider its verdicts.
James, 30, a mother of three, who was found guilty on Tuesday of causing or allowing Lola's death, can be heard on the recording sobbing as she tells a call handler the youngster is unresponsive and her head and eyes appear bruised and swollen.
Bevan, 31, was found guilty of murdering Lola, after claiming her injuries were caused by the family dog pushing her down the stairs.
During the two-minute clip, which was played to the jury during the course of the four-week trial, James said: "My partner, because I was in bed, was up with her.
"She's fallen down the stairs she has, from the top of the stairs to the bottom, and her head's all swollen and she's bitten the top of her tongue off or something."
"She moans when I try to wake her but her eyes are all swollen as well. I'm really scared," she sobbed.
Asked what caused the fall, James said: "The bloody dog I had barged her and she just fell."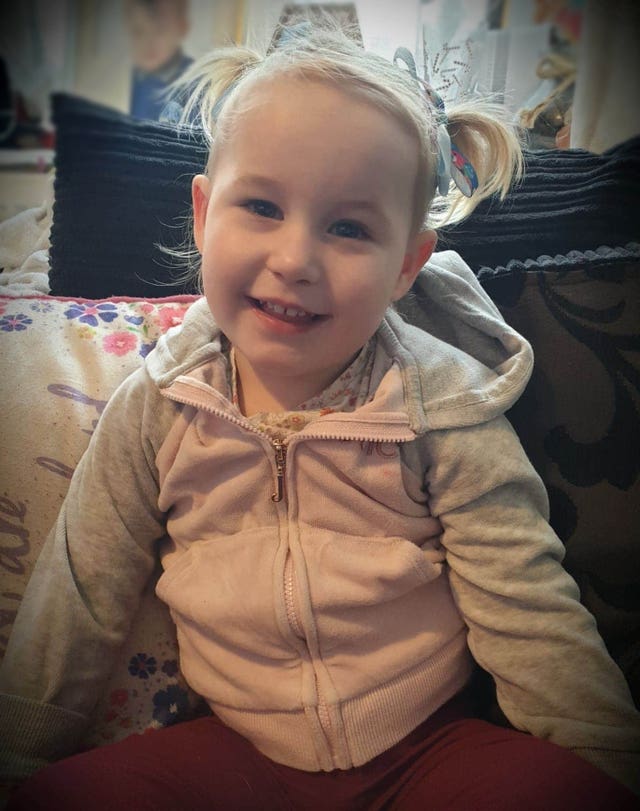 She said she believed Bevan's account when he woke her at about 7.20am to tell her Lola had fallen down the stairs, but giving evidence said she began to doubt his story during her police interviews, as they showed her photos and videos Bevan had taken of Lola's injuries on his mobile phone before he alerted her or the emergency services.
– Alison Bevan 999 call
Another 999 call played to the jury was that from Bevan's mother Alison, who rang the emergency services at 7.29am.
Bevan had been trying to contact his mother since about 6.40am, when he first called her.
Since she was asleep, she did not pick up or respond to her son's messages until 6.55am, when she told him to wake James and call for an ambulance.
Photos and a video sent to her by Bevan of Lola's injuries made her believe the toddler needed urgent medical care.
Bevan asked his mother to call 999 at 7.28am, claiming his phone was unable to.
"She's got ADHD, she's fallen from top to bottom of the stairs.
"Then she's bit the end of her tongue because they're not sure if she's fitted. But she's floppy. They can't wake her up."
She confirmed she was not with Lola, and said: "They just rang me because I've got credit on my phone, ring an ambulance now they said."
The operator informed Ms Bevan that no credit is needed to ring an ambulance.
"They panicked I think," she added.
"I don't know the exact time, it must've just happened," she said.
"The child woke up and she's fallen down the stairs, apparently.
"There's just a massive lump on her head."
– Video of Lola unconscious
One of the more harrowing pieces of evidence to be shown to the jury was a 22-second clip Bevan had shot on his phone of Lola's condition more than 30 minutes before he asked his mother to call for help.
The footage has been deemed by the Crown Prosecution Service (CPS) to be too graphic to release to the public.
In the short video, a topless Bevan could be seen from a side profile lifting the two-year-old from the sofa where she had been slumped and attempting to stand her on her feet.
The floppy, bruised and clearly unconscious girl does not respond and can be heard falling to the floor with a thud as Bevan lets her go.
Bevan then places Lola back on the sofa where she can be heard snoring, before he walks towards the propped-up phone saying "No. She's gone. She's gone."
The video was sent to Ms Bevan at 6.58am.
By that time Bevan had already made a number of internet searches for information about babies suffering head injuries, including at 6.30am when he googled "my 2 year old child has just taken a bang to the head and gone all limp and snoring. What's wrong".
He had also taken and sent a number of images of Lola's injuries, including of marks to her back and close-ups of her face, showing bruising and swelling to her head, eyes and lips.
– Police body-worn video
Footage taken from the body-worn video camera of a police officer attending the house on Princess Royal Way, Haverfordwest on July 17, shows Bevan repeating the claim Lola had fallen down the stairs after being knocked by the family dog.
Bevan can be seen in the 21-second clip talking to officers in the kitchen of the property.
He tells them: "Yeah, she took her flying like.
"It's the only thing, I'll be honest, that I feel partially responsible for, is the fact I was making her a bowl of cereal when it happened, I was making her breakfast."