Transport Minister Richard Holden has expressed a hope that City of Derry Airport can move towards becoming self-sustaining.
Mr Holden was speaking during a visit to the airport on the outskirts of Londonderry following confirmation of support to ensure the only air route from the city to London will continue for another year.
The Department of Transport and the Stormont Department for the Economy recently confirmed that the support will continue to March 2024.
The two departments will be providing £1.1 million in 2023/24 to maintain the connection.
Loganair took over the Londonderry to London route after the original operator, Flybmi, entered administration in February 2019.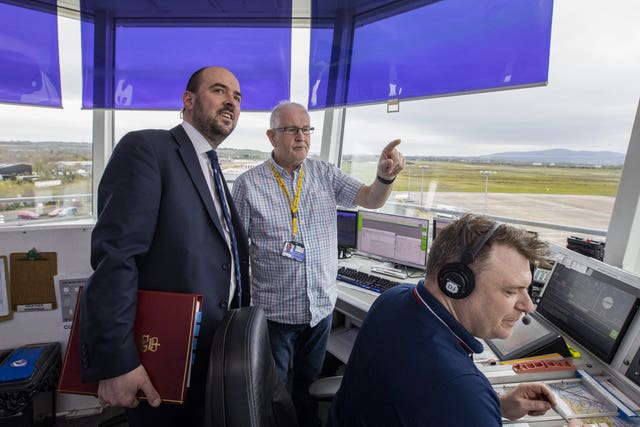 Visiting the airport on Tuesday, Mr Holden commended the move to support the route.
He also said he hopes that the 50% reduction in the Domestic Air Passenger Duty, which came in on April 1, will boost business.
"Some of that won't need to be supported with as much tax payer money in the future because they won't have to pay that tax, hopefully that means places like Derry will be able to see a boost in that direction, particularly with regional tourism," he said.
"We have got those routes to Manchester opening up as well soon, and hopefully others too.
"We're seeing steps in the right direction, obviously the long term aim though is for all airports like this to not just be self sustaining, but even getting to a point where they can provide some cash back to the local tax payers as well."