Nicola Sturgeon's husband Peter Murrell has been arrested in a police investigation into the SNP's finances with their home and party's headquarters being searched.
The former chief executive of the party has been taken into custody and was questioned by detectives as police searched their house in Glasgow on Wednesday morning.
A large police tent was set up outside their home, which was taped off.
Officers are also at the SNP's HQ offices in Edinburgh, with police vans seen parked outside and uniformed officers standing inside the building.
In the afternoon, two vans left the city centre headquarters of the party, with police officers remaining stationed outside the building.
Police Scotland have been investigating the spending of about £600,000 which was earmarked for Scottish independence campaigning.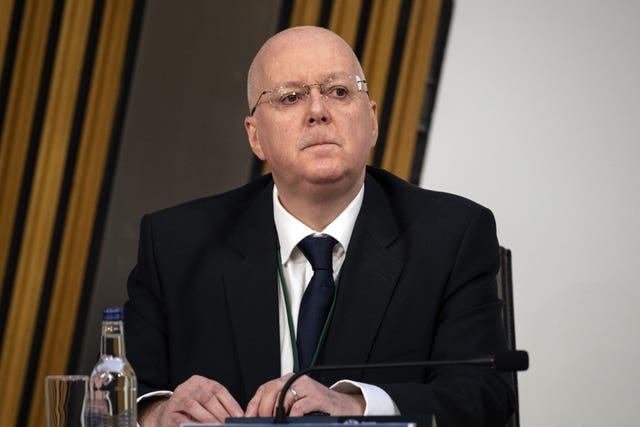 He told broadcasters on Wednesday: "My reaction, as you'd imagine, much like anybody involved in the SNP, is that this is a difficulty for the party.
"But, again, I'd just reiterate and emphasise it's so important for me not to comment on a live police investigation and be seen to prejudice that in any way, shape or form."
He continued: "I think there'll be concern from the public but, again, there is a live police investigation under way and we will wait to see what comes at the conclusion of that police investigation."
Mr Murrell stepped down as chief executive – a role he had held for more than 20 years – during the recent leadership campaign.
The 58-year-old has been married Ms Sturgeon since 2010.
The arrest comes after Ms Sturgeon's time as first minister formally came to an end last week, as she was succeeded by Humza Yousaf as SNP leader.
Ms Sturgeon, following the shock announcement she would stand down, refused to answer if her decision was impacted by the investigation.
Police Scotland released a statement on the arrest on Wednesday morning.
It said: "A 58-year-old man has today, Wednesday April 5, been arrested as a suspect in connection with the ongoing investigation into the funding and finances of the Scottish National Party.
"The man is in custody and is being questioned by Police Scotland detectives.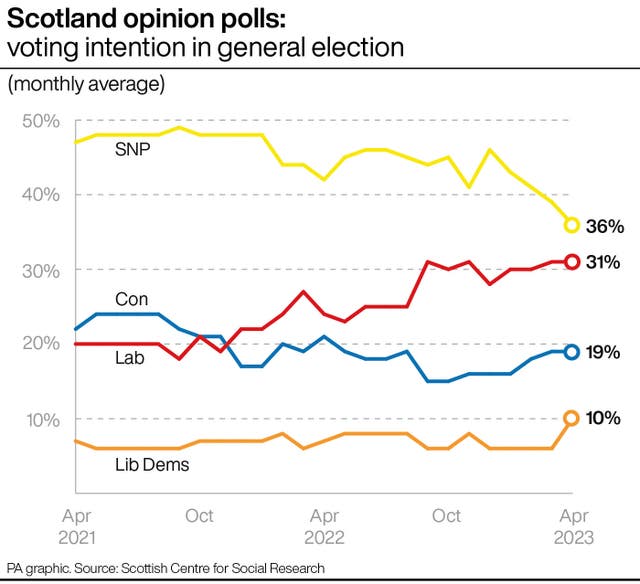 "A report will be sent to the Crown Office and Procurator Fiscal Service."
Police Scotland advised caution around discussing the case on social media due to contempt of court rules.
The SNP released a statement saying: "Clearly it would not be appropriate to comment on any live police investigation but the SNP have been co-operating fully with this investigation and will continue to do so.
"At its meeting on Saturday, the governing body of the SNP, the NEC, agreed to a review of governance and transparency – that will be taken forward in the coming weeks."
Outside the SNP office in the Scottish capital, officers were on guard in the entrance and others were seen entering and leaving the building.
There were four police vans and about five unmarked police cars outside the building in Jackson's Entry, where the party headquarters is on the third floor.
Meanwhile, the SNP's political opponents called for full transparency from Mr Yousaf and Ms Sturgeon.
Scottish Labour leader Anas Sarwar told the PA news agency: "There are big questions to be asked of both Humza Yousaf and Nicola Sturgeon, and in the fullness of time, I hope those questions are asked."
He said the situation is "extremely serious" and the police should be allowed to "do their jobs".
Scottish Tory constitution spokesman Donald Cameron urged both Nicola Sturgeon and Humza Yousaf to "co-operate fully" with the police investigation, adding: "While there is an ongoing police investigation into the SNP's finances, and given that a suspect has now been arrested, it is right that due process is followed and any potential wrongdoing investigated thoroughly by the police."
Alba Party leader Alex Salmond, a former SNP leader turned party critic, said the news was "very sad".
"It's a very live investigation, so I couldn't really comment on the specifics," said Mr Salmond, who was walking into the BBC's Edinburgh office just 25 metres away from the headquarters of the SNP.
"I led the SNP for a long time, so I'm very sad about what's happening to it and, indeed, what it's become."