The King has attended his first Royal Maundy service, distributing commemorative coins to 74 men and 74 women who have made a difference to their communities.
Charles arrived at York Minster with the Queen Consort to cheers from hundreds of people who had lined the streets of the city waiting for the royal arrival.
During the service, the numbers waiting in the sunshine around the cathedral swelled to thousands and, after the royal couple emerged, they spent 20 minutes in the sunshine talking to the crowd in a lengthy walkabout.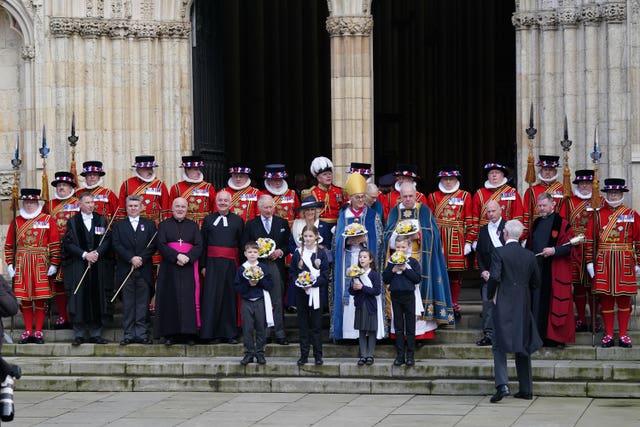 The royal couple were presented with the traditional nosegay, a small flower bouquet, as they entered the cathedral and sat as the service got under way.
The King then moved around the minster presenting 74 men and 74 women with the Maundy money as the congregation of about 1,500 looked on.
The money is presented to thank the recipients for their outstanding Christian service and for making a difference to the lives of people in their local communities.
Charles presented each recipient with a red and a white purse, stopping to chat with many.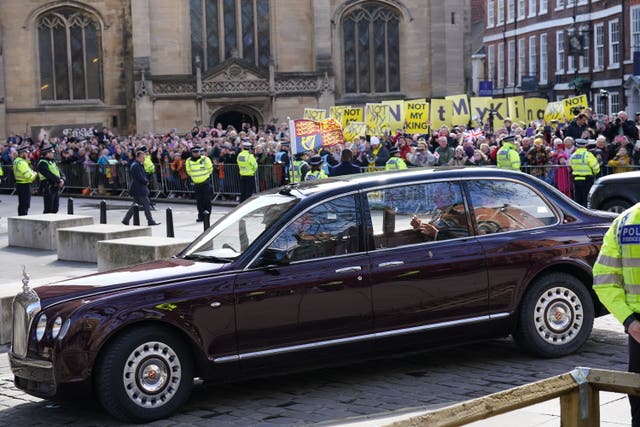 This year, one celebrates the King's forthcoming 75th birthday and the other commemorates the 75th anniversary of the Windrush Generation.
The couple signed the visitors' book before they left and posed for photographs on the minster steps.
The King looked relaxed as he embarked on a walkabout.
Maundy Thursday commemorates the Maundy and Last Supper of Jesus Christ with the Apostles, and is one of the most ancient ceremonies retained by the Church of England.
The first recorded royal distribution was at Knaresborough, North Yorkshire, by King John in 1210, according to Buckingham Palace.