Rishi Sunak is taking no action against Tory MP Mark Spencer after an official investigation was unable to determine whether he told colleague Nusrat Ghani her Muslim faith played a role in her sacking.
The inquiry by the Prime Minister's ethics adviser Sir Laurie Magnus was critical of Mr Spencer's actions as chief whip but cleared him of breaching the Ministerial Code.
Ms Ghani had alleged Mr Spencer said her "Muslimness" was linked to her exit from her position as a junior minister in Boris Johnson's government.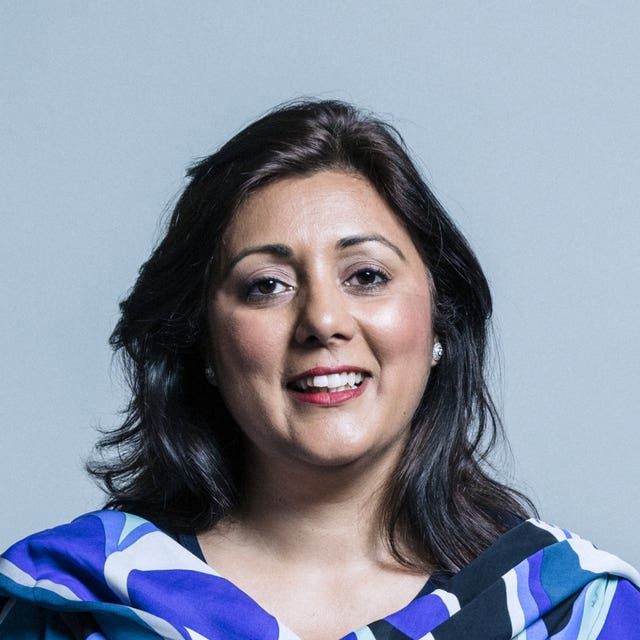 But the adviser did not find a "clear failure" to uphold the Ministerial Code as he cited "inconclusive evidence" on whether the remarks were made.
Both Conservative MPs at the centre of the row now serve in Mr Sunak's Government despite remaining "aggrieved and personally affected" by the row.
Mr Sunak wrote to Sir Laurie noting that the events surrounding the sacking had been an "unsatisfactory experience for both ministers involved".
"But in the absence of clear evidence, it would not be right to take further action," Mr Sunak wrote.
"I have spoken to both ministers and encouraged them to heed your advice to pull together in the finest tradition of public service."
Labour criticised the Prime Minister for maintaining a "rotten, toothless" ethics regime that has taken so long to reach the "unsatisfactory" outcome.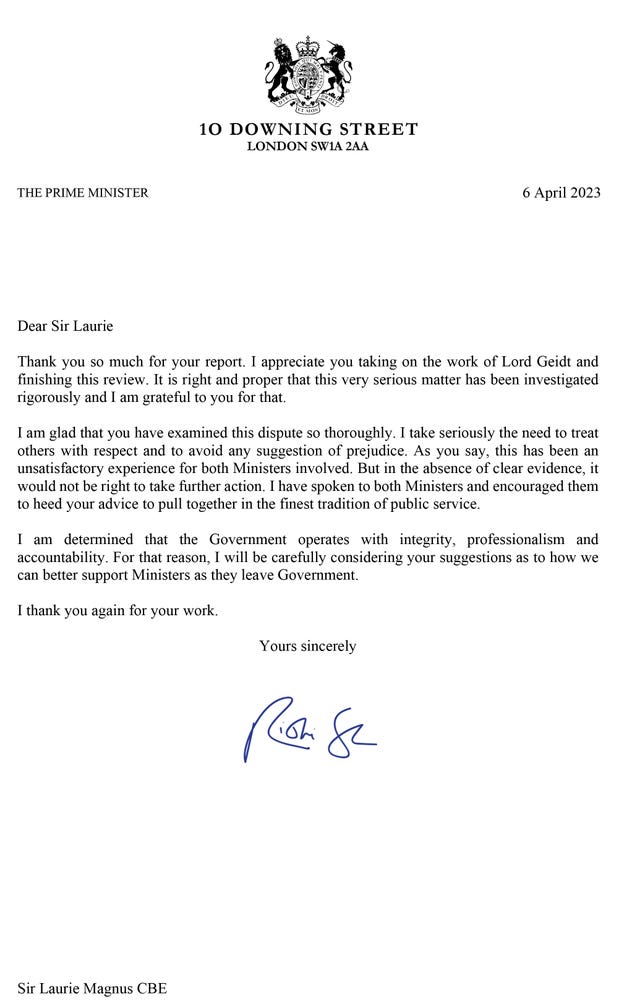 An investigation was launched in January last year after the MP for Wealden in East Sussex made her allegations about her 2020 sacking public.
Sir Laurie was unable to "draw a clear picture" of the discussions between the pair in 2020 as no independent witness was present for the "exit interview".
He said the "differing accounts" mean he is "not able to conclude with sufficient confidence what was or was not said at these two meetings".
With Ms Ghani having "serious concerns" about "negative and discriminatory comments about her faith", Sir Laurie said Mr Johnson arranged a meeting with her.
The then prime minister first spoke to Mr Spencer, but the chief whip "omitted to mention" the first of his two meetings with Ms Ghani on March 4 2020.
The then-premier was said to have later suggested that if Ms Ghani did not make a formal complaint he would still encourage her to speak to the Tory Islamophobia inquiry.
Ms Ghani did not believe it to be an "appropriate" means to resolve her allegation.
After she went public in January last year, Mr Spencer posted a series of tweets identifying himself as the alleged culprit and claiming the Islamophobia inquiry found there was "no credible basis for the claims".
Sir Laurie said Mr Spencer, the MP for Sherwood, who is now an environment minister, had done so "without evidence", and should have "taken more care" with the late-night remarks on social media.
The adviser said his investigation may have been "unnecessary" if Mr Spencer had had a witness present for the meeting with Ms Ghani.
"Both Ms Ghani and Mr Spencer consider each other to be mistaken in their recollections and both remain aggrieved and personally affected by the impact of this public disagreement," Sir Laurie concluded.
"I would hope that, as dedicated public servants and ministers of the crown, they will now find a way to move on from these events."
In a statement, Ms Ghani said Mr Spencer will have to explain criticism of his "shortcomings" and other failings.
"There is no criticism or doubt expressed regarding my version of events," she said.
"Others will have to explain the report noting the 'omissions', 'shortcomings', 'incomplete information', 'inaccurate briefings' and claims 'implied without evidence' in their actions and story.
"We all serve at the Prime Minister's choosing and there is no shame in a political career ending. But to be told your faith and identity is the reason for it cannot be acceptable in any way.
"The impact of being told this was devastating and my motivation in pursuing the complaint was to ensure it wasn't buried, but that it ended with me so that no other colleague would have to endure anything similar.
"As I said last year, my party is better and bigger than this whole sorry episode which has only been bearable due to the support of so many Conservative colleagues."
Deputy Labour leader Angela Rayner said: "It's taken three years for a broken system to reach this unsatisfactory conclusion.
"After all the denials, Mark Spencer was found to have misled the former prime minister and the public but still considered fit to be a minister by Rishi Sunak.
"Despite promising integrity, professionalism and accountability at every level, Rishi Sunak has kept the rotten, toothless ethics regime of his predecessors and failed to set a standard that the public would expect."