Republican protesters demonstrating outside the Royal Maundy service said they are expecting more than a thousand people to protest at the coronation but promised they will keep it "fairly light-hearted".
A group of around 30 people chanted "not my King" and held up placards as Charles and Camilla arrived at York Minster on Thursday.
Graham Smith, CEO of the group Republic, said the protest will be bigger at the coronation, promising to make themselves "unmissable" during the day.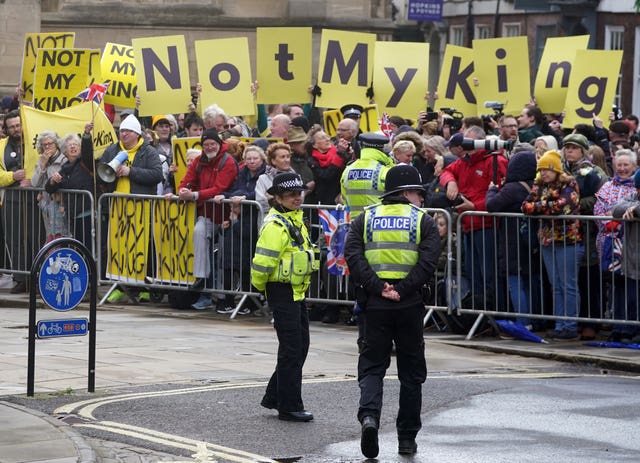 "We're not quite sure what we're going to do but we may have other groups along the route.
"But, certainly, there will be one large protest in the middle, on the procession route.
"And it will be a lot of this really, lots of 'not my King' placards – we'll be making some noise. There'll be a bit of a party atmosphere, trying to engage the people around us and keep it fairly light-hearted.
"And we'll make sure that when the procession goes past we are unmissable."
Mr Smith said: "We'll be protesting at the coronation and beyond just to really challenge the idea of a succession of head of state and to say we want an election instead of a coronation – a choice instead of chance."
He said he and his fellow protesters got a "mixed reaction" in York, admitting that the majority of those gathered outside the minster did not agree with them.
"Some of them get annoyed but it's a free country and we can all stand here and demonstrate our support or our opposition," he said.