The Government's planned use of barges and disused military bases to house asylum seekers is "absolutely evidence of failure", Sir Keir Starmer has said.
The Labour leader said ministers must "get a grip" on the backlog of asylum claims.
The high number of migrants crossing to the UK in small boats has overwhelmed the asylum system, with about 51,000 currently in hotels waiting for their claims to be processed.
The Government has set out plans to accommodate migrants at several RAF sites and a former prison as it seeks alternatives to hotels which it says are costing £2.3 billion a year.
Sir Keir said ministers should instead focus on measures to prevent small boats crossing the Channel and tackling the backlog of claims.
Speaking to broadcasters during a local elections campaign visit to Scunthorpe, Lincolnshire, he said: "The Government has caused a situation where they've broken the asylum system, got thousands upon thousands of claims that haven't been processed.
"The answer isn't more expense for the taxpayer, the answer is to fix the problem, stop the boats with effective action and process the claims.
"I think anybody listening to this will be absolutely astonished to learn that of all those that arrived via small boats last year, only 1% have had their asylum claims processed."
The Government hopes to start housing migrants on barges "as quickly as possible", transport minister Richard Holden said.
Asked whether migrants would be effectively imprisoned on the barges, Mr Holden told Sky News: "No, it is not a type of prison at all. What these places are is for people to be safe and secure while their immigration claims and asylum claims are processed in the UK."
He also said the new accommodation would not have an impact on nearby communities, saying services such as medical facilities would be on site.
Immigration minister Robert Jenrick last week announced that up to 2,000 migrants will be housed at RAF Scampton in Lincolnshire, and more will go to other bases and private facilities across the country.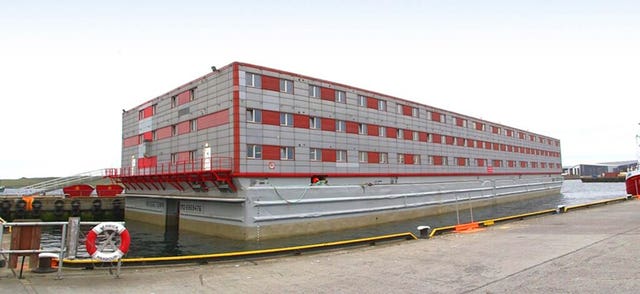 The authority said it was concerned the proposals would affect plans to deliver a £300 million regeneration programme.
Sir Keir told local reporters that the Government was "completely wrong" to press ahead with the plans that would "drive a coach and horses through a really important initiative for investment, for jobs, of tech jobs in an area that desperately needs them".
"It is also likely to ruin the legacy of the Dambusters. You know, this is an iconic site," he said, calling on ministers to "reverse their decision".