Police in Northern Ireland are facing a period of "unprecedented demand" at a time they fear their budget will be cut by £150 million, a senior officer has said.
The terrorism threat level in the region was recently raised to severe meaning an attack is highly likely.
This followed the gun attack earlier this year in Co Tyrone on senior detective John Caldwell, who has been left with life-changing injuries.
Police have blamed the New IRA for the attack.
On Thursday, Police Service of Northern Ireland Chief Constable Simon Byrne said he assumed that dissident republicans would attempt to draw police officers into public disorder situations over the Easter period.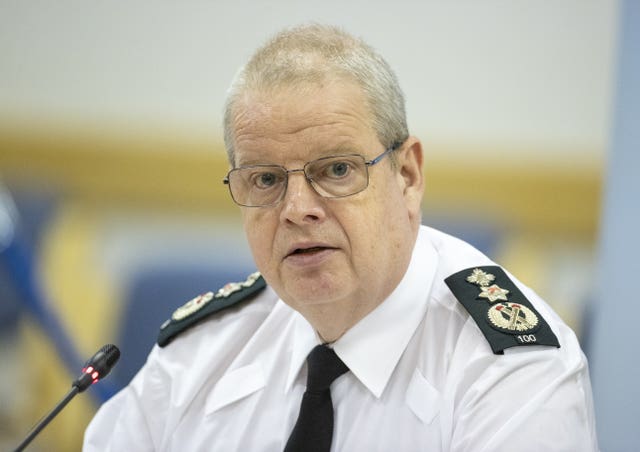 Assistant Chief Constable Bobby Singleton said police have a real concern around potential for public disorder in Londonderry on Easter Monday, a time traditionally marked by republicans in memory of the 1916 Easter Rising.
But he said police will be "ready for whatever will happen in Derry/Londonderry on Monday".
"We have a real concern that there is potential for public disorder there, potential if the style and tone of the policing operation is not right, potential for dissidents to try and draw us in to disorder and then experience tells us where that happens, that can quite often become the platform for an attack on our officers," he said.
"We're aware of that, we're planning for it, we've already started proactive activity in order to try and prevent the likelihood of that happening, we'll continue to work with the local community there to make sure we deliver the most effective policing operation that we can."
In an interview with the BBC Radio Ulster's Stephen Nolan show, Mr Singleton said they are "in the mouth of a period of really unprecedented demand for police".
He said police still face a great deal of uncertainty around the PSNI budget.
"Based on the latest indications that we've had from the department (of justice), we think that we could be looking at a funding gap of somewhere in the region of potentially £150 million going into this next financial year – that is absolutely stark," he said.
"We are an organisation that is already shouldering significant pressure, and the question is often asked of us is how, whenever you have taken more than 400 police officers and staff out of your organisation, how can you be sustaining performance that makes Northern Ireland one of the safest places to live in the UK, and the answer is, it's largely down to the resilience and the good will of our people.
"But everybody has a breaking point, and we are really concerned about what this funding gap of £150 million will mean for us, our officers and our staff and for the community we serve going into this year."