US president Joe Biden is to give a key address at Ulster University's newly opened campus to kick-start his historic visit to the island of Ireland next week.
Mr Biden is taking part in events north and south of the border to coincide with the 25th anniversary of the Good Friday Agreement.
His address at Ulster University's new Belfast campus will take place on Wednesday.
"We are looking forward to what will be a very special day in the University's history, and to hosting President Biden on his first visit to Northern Ireland since becoming president," he said.
"As we mark the 25th anniversary of the Belfast Good Friday Agreement, Ulster University, across all three of our campuses, is looking forward to preparing the next generation of civic, business and societal leaders."
The US president is to arrive in Belfast on Tuesday evening along with UK Prime Minister Rishi Sunak.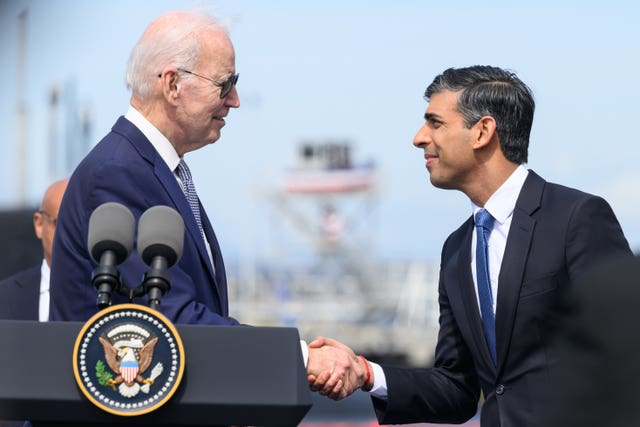 Irish deputy premier Micheal Martin has denied this was the case, arguing that any visit by a US president was to be welcomed.
"People are envious of the commitment of President Biden … to the entire island of Ireland," he said.
"I think his visit to Northern Ireland is a manifestation of his genuine commitment to the people of Northern Ireland."
Mr Biden will visit Dublin where he is to address Irish parliamentarians and meet Irish premier Leo Varadkar and Irish president Michael D Higgins.
There will be a banquet held in Dublin Castle in the president's honour on Thursday evening.
He is also expected to visit Co Louth and Co Mayo, from where his ancestors hail.
Mr Biden's great-great-grandfather Owen Finnegan emigrated to the United States from the Cooley Peninsula, while another great-great-grandfather, Patrick Blewitt, was born in Ballina, leaving during the Irish famine in 1850 to sail to America.
The end of the trip will include a public speech by the US President in Co Mayo, outside St Muredach's Cathedral in Ballina, on Friday evening.
Mr Varadkar has said the purpose of Mr Biden's visit was "to welcome a son of Ireland home, to welcome home a great Irish-American president".
He said it also offered an opportunity to cement the relationship between Ireland and the US, which he said had never been stronger, and to look ahead to Northern Ireland's future.
A major security operation is expected to be in place for Mr Biden's visit, with more than 300 officers from the rest of the UK being drafted in for the Northern Ireland leg of the trip.
In a sign of the tight security measures that surround the diplomatic outing, some details of the presidential visit have yet to be confirmed.
The PSNI said on Saturday that it was engaging with local communities and businesses who may be impacted by traffic restrictions in place on Tuesday and Wednesday.
The First Lady Jill Biden is not expected to travel with Mr Biden.