Rishi Sunak has stressed the bravery and compromise exhibited by the leaders who secured the Good Friday Agreement as he called for power-sharing to swiftly return to Northern Ireland.
On the 25th anniversary of the peace deal, the Prime Minister celebrated the "difficult decisions" taken and "political imagination" displayed to end the Troubles.
"So we must get on with the business of governance," he said in a statement on Monday, ahead of talks to get Stormont running again intensifying.
The peace brought by the treaty also remains fragile, with the terror threat having been raised amid warnings of possible attacks on police.
Mr Sunak said there is a need to "recommit to redoubling our efforts" to deliver on the promise made when the deal was signed on April 10 1998.
"As we look forward, we will celebrate those who took difficult decisions, accepted compromise, and showed leadership – showing bravery, perseverance, and political imagination," he said.
"We commemorate those who are no longer with us and the many who lost their lives by trying to prevent violence and protect the innocent.
"And we give thanks to them as we reflect on the new generations that have grown up and continue to grow in a world in which peace and prosperity has prevailed.
"While it is time to reflect on the solid progress we have made together, we must also recommit to redoubling our efforts on the promise made in 1998 and the agreements that followed."
That vision, he said, is of "economic opportunity, prosperity, and stability".
"So we must get on with the business of governance," Mr Sunak continued.
"My mission, duty and responsibility as Prime Minister of the United Kingdom is to deliver for people in Northern Ireland.
"There is work to be done."
But Northern Ireland Secretary Chris Heaton-Harris said no-one could put a timeline on when powersharing would be back up and running.
He told BBC Radio 4's Westminster Hour: "Anybody who is predicting a date by which the executive would go back in Northern Ireland would be someone who can also sell you a four-leaf clover. No one knows – deadlines are deadly in Northern Ireland term."
Writing in The Telegraph, he added: "Across a range of measures, the people of Northern Ireland are being directly impacted because of an ongoing lack of locally accountable devolved government.
"The UK Government wants to see the Northern Ireland institutions delivering better public services, more investment and a stronger Union based on prosperity… there is no surer way to achieve that than for political parties to come together to get on with the job of delivering on the people's priorities and to make Northern Ireland work."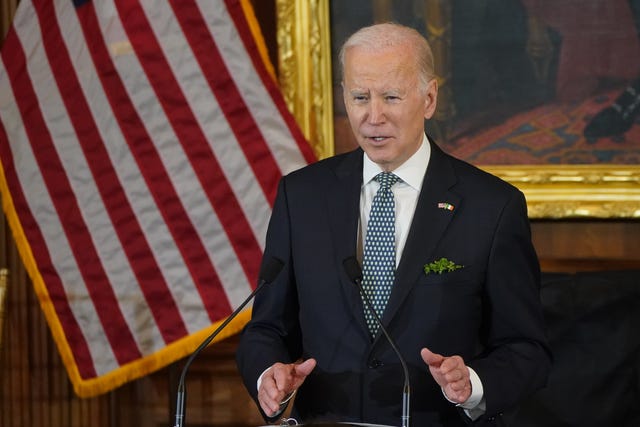 "With political stalemate at Stormont and a period of difficult Anglo-Irish relations, we must use the spirit and the trust built by the architects of the Good Friday Agreement to push us forward to another 25 years of peace and prosperity," he said.
The Police Service of Northern Ireland (PSNI) has warned of the potential of dissident republicans launching attacks on police officers in Londonderry on Easter Monday.
MI5 recently raised the terrorism threat level in Northern Ireland to severe, meaning an attack is highly likely.
Sir Jeffrey Donaldson, the leader of the Democratic Unionist Party (DUP), has insisted the political vacuum in the nation caused by his party's refusal to re-enter Stormont is not to blame.
Irish Taoiseach Leo Varadkar said he will be "intensifying" talks with Mr Sunak in the coming weeks to try to get Stormont running again.
"We're working towards having the institutions up and running in the next few months," he told RTE's This Week programme.
Mr Sunak will meet Mr Biden off Air Force One when he arrives on Tuesday evening.
The president will take part in events on Wednesday, before heading to the Republic of Ireland, where he will visit Dublin, Co Louth and Co Mayo.