Dozens of police officers and secret service vehicles descended on Belfast on Tuesday morning in a major security operation ahead of US President Joe Biden's visit.
Bedford Street was closed to traffic, along with several side streets surrounding the Grand Central Hotel.
The street remained open to pedestrians as dozens of police and a number of armoured vehicles filled the area.
There were also several police vehicles surrounding Ulster University.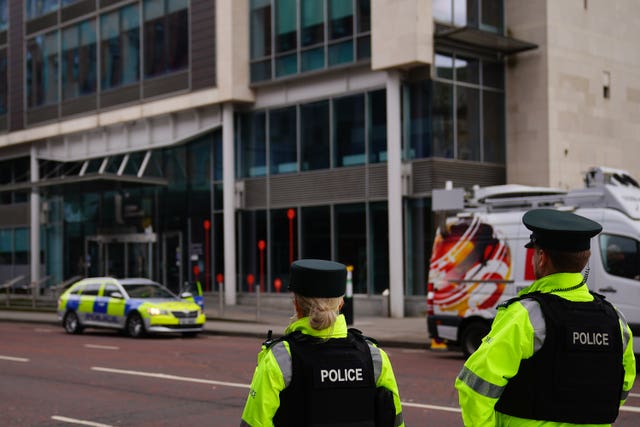 Anne Tennyson, from Belfast, welcomed the visit, despite the extensive security measures.
"I think it's great, it's great to see him coming here," she said.
"It's fantastic. Belfast has cleaned itself up and prepared for it and it's looking great."
Ms Tennyson added that it is sad that President Biden is visiting while the Stormont Executive is not functioning.
"He's obviously a diplomat so I would like that he would use his diplomatic influence to get them coming together for the betterment of Northern Ireland," she said.
"We were expecting maybe less customers but we are probably the safest street in Belfast now."
Dorothy Wardlaw, who was visiting Belfast from Scotland, said the increased police presence in the city is scary.
"I think it's ridiculous, I really think it's just a waste of money, terrible," she said.
She added: "Just a bit scary, it does scare you."