Disruption caused by the junior doctors' strike could last "for weeks", an NHS leader has warned as medics threatened the prospect of further walkouts.
Professor Sir Stephen Powis, national medical director for the NHS in England, said the strikes – which began at 7am and will continue until Saturday morning – will cause "unparalleled" upheaval and will be the "most disruptive in NHS history".
Health Secretary Steve Barclay said the timing of the industrial action is "regrettable" and accused the British Medical Association (BMA) of putting patients at "greater risk" by not agreeing any exemptions for some services, such as cancer care.
It has been estimated that some 350,000 appointments and operations have been rescheduled as a result of the action as senior doctors and other medics who are not on strike have been diverted to cover services such as A&E and maternity care.
Sir Stephen told Times Radio: "This is going to be the most disruptive period of strike action that we've seen this winter, probably the most disruptive period of action in NHS history.
"A few weeks ago, when we had three days of strike action by junior doctors, we saw over 175,000 appointments and procedures having to be rescheduled, so my expectation is that we will see more and perhaps considerably more than that this time.
"Our focus has been on providing cover for absent junior doctors – they make up to half of the medical workforce – so consultants will be doing that along with other members of staff.
"But it does mean that we're focusing on emergency services – and of course those staff who are covering can't be in two places at once so that does mean disruption and cancellations and rescheduling, I'm afraid."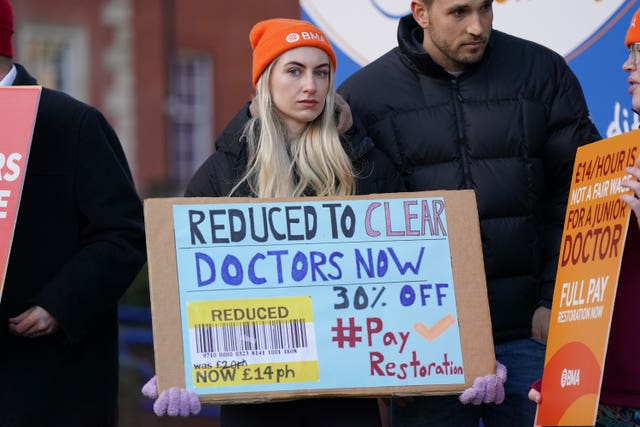 "We've asked hospitals to reschedule appointments as quickly as possible but this is going to cause unparalleled disruption, so it will take some time."
He also warned that cover for emergency services is "fragile", telling BBC Radio 4's Today programme: "We are working very hard to ensure those emergency services are kept safe – that is our priority – but I've also got no doubt that that cover is very fragile.
"We will endeavour to keep patients safe, particularly in those emergency services but that is becoming harder every time we have this strike action."
"We would emphasise today, once again, the importance of finding a way for these two sides to start to talk to each other because at the moment it feels like their positions are extremely entrenched," the organisation's chief executive, Matthew Taylor, told Good Morning Britain.
"Both sides are going to end up negotiating – we all know that – so I guess we want to say 'Please get on with it'."
He said the strikes are "incredibly serious", adding: "You can't take out half your medical workforce and not have an impact on patient safety, on patient dignity."
Miriam Deakin, director of policy and strategy at NHS Providers, told Times Radio that the junior doctors' strike could lead to an "increased risk to patient safety" in emergency care.
"(NHS trust leaders) are worried that they will be incredibly stretched in providing those emergency services which have to keep operating – so that's in A&E, critical care services, maternity services, neonatal care, for example.
"So those are the services that will be prioritised and trusts have been redeploying all of their resources towards those services, but they're telling us that the risk to patient safety and those services also is increased this time."
Asked about the prospect of bringing in the Advisory, Conciliation and Arbitration Service (Acas) to help reach a resolution between the parties, she added: "It's always helpful to have a third party, someone who's objective to help facilitate a conversation, so that could be one way forward.
"I think we need all parties in this dispute to be open to negotiation and open to compromise and just to start talking to put strikes on pause."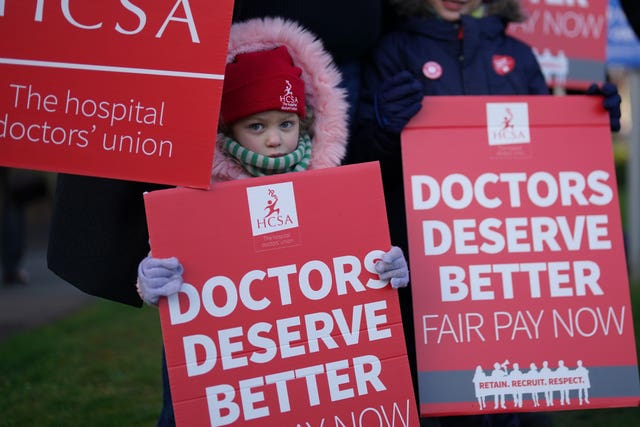 Dr Vivek Trivedi, co-chairman of the BMA's junior doctors committee, told the PA news agency: "Strikes are by nature designed to be disruptive, to put pressure on the Government to come to the table to ultimately work towards an end to this dispute.
"Where we go forward is, of course, reserving the right for further industrial action if the Government doesn't negotiate with us, but that's all we want them to do.
"We just want them to come to the table in an honest and meaningful way.
"But of course if they don't, then we would reserve the right for further industrial action."
He added: "The Government has not even tried to meet us anywhere in the middle, it hasn't given us a counter-offer at all.
"We've extended our olive branch many times and Mr Barclay is continuing to kick the can down the road, which is why we need to see some goodwill from him."
He said a "credible" offer from the Government would lead to doctors calling off the strike action for the rest of the week.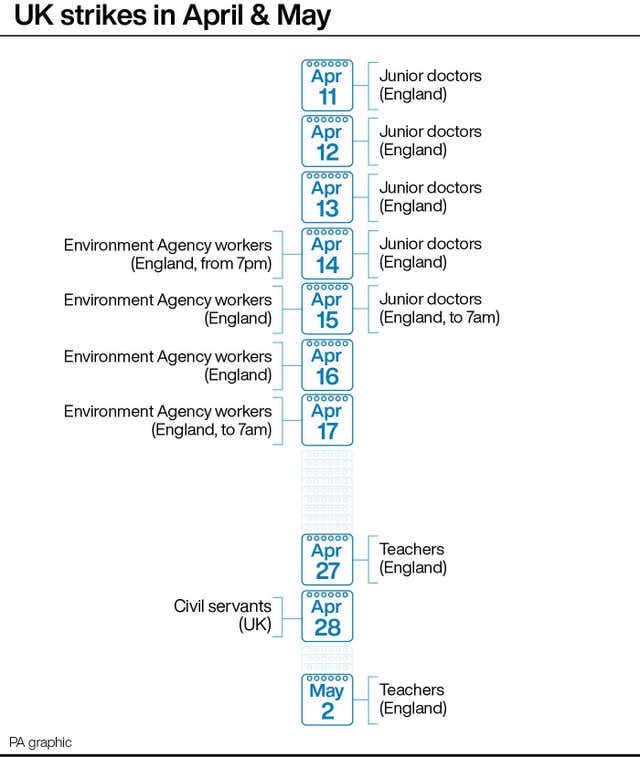 "I can't guarantee that no lives will be put at risk but what I can guarantee is that 500 patients are dying (every week) waiting for care at the moment," she said.
"What I can guarantee is that emergency care, essential care will be provided by expert clinicians in hospitals.
"So what I'm saying is that, no, I can't guarantee that no life will be at risk this week but that's because lives are being put at risk every single week."
The BMA has estimated that up to 50,000 junior doctors are out on strike.
The strikes centre around a pay row between the BMA and Government, with the union claiming junior doctors in England have seen a 26% real-terms pay cut since 2008/09 because pay rises have been below inflation.
The union has asked for a full pay restoration that the Government said would amount to a 35% pay rise – which ministers have said is unaffordable.
The union said junior doctors can earn as little as £14.09 per hour in their basic pay packet.
Speaking to broadcasters, Mr Barclay said: "Well, I deeply regret these strikes and in particular the timing, which been timed deliberately coming straight after Easter, the fact that the BMA junior doctors have asked their members not to tell NHS managers whether they intended to go on strike or not – making contingency planning more difficult – and also their refusal to agree on any national exemptions.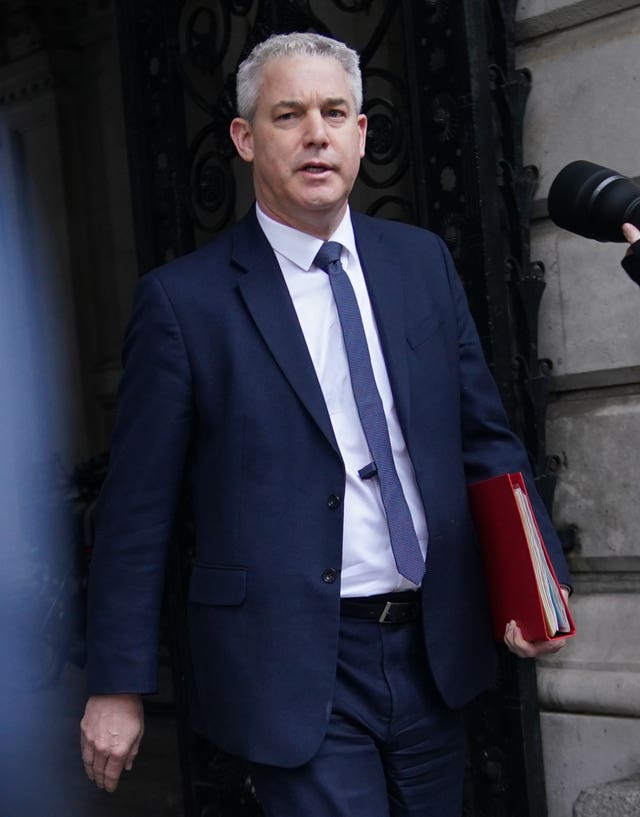 "The junior doctors committee has refused any national exemptions and obviously that puts patients at greater risk, but we're working very hard to mitigate those impacts.
"A huge amount of effort has gone into the contingency planning, the measures in place, given the effects of the strikes, but clearly they have been timed to have an impact on patients and I think that's very regrettable."
He added: "The Government has shown that it is willing to listen and to engage in meaningful and constructive talks.
"My door is open and we remain willing to engage constructively with the junior doctors but clearly a demand of 35% – which would involve some junior doctors receiving over £20,000 more in terms of their basic pay – is not reasonable to your viewers, to those who have to balance the wider issues of the economy and getting inflation down alongside recognising the very real pressures that the NHS and junior doctors have been under, not least from the pandemic.
"That's why we stand ready to have meaningful and constructive talks with them, as we have had with other health unions, as we have in terms of responding at the Budget to concerns from doctors regarding their pension.
"So we are ready to have discussions with them but clearly a demand for 35% – over £20,000 for some junior doctors – is not fair or reasonable.
"And that is why we've not been able to make progress so far, but we want to engage constructively.
"We recognise junior doctors have been under significant pressure, particularly from the pandemic, and we want to work with them to find a fair and reasonable settlement."