Shouts of "welcome home Joe" greeted the US president as he shook hands and took selfies with excited locals in Dundalk.
Screams and cheers erupted in the town's main street as the huge presidential motorcade rolled into the Co Louth town on a drizzly, grey and windy Wednesday evening.
A sign reading "Dundalk welcomes President Biden" hung above Clanbrassil Street as families with young children waited in anticipation of Joe Biden's arrival on the first day of the Republic of Ireland leg of his visit to the island.
Despite the weather, crowds lined the town's main street to catch a glimpse of the US leader, who wore a navy baseball cap bearing the American flag as he emerged from The Beast.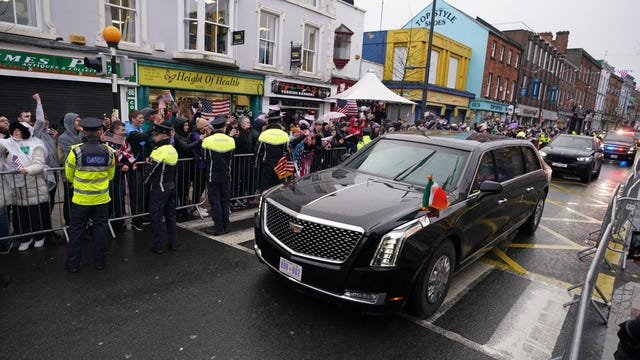 Mr Biden, whose grandfather James Finnegan was born in Co Louth, spoke fondly of his Irish roots with the owner of a local deli.
Jerome McAteer said he was "honoured" to host Mr Biden for a short time in The Food House, where the president treated himself to some sweet goods.
Mr McAteer, who owns the gourmet food store with his husband Bobby Wain, said Mr Biden bought lemon meringue, chocolate eclairs, bread and butter pudding, pear and almond cake, as well as a mug with an image of a dog on it.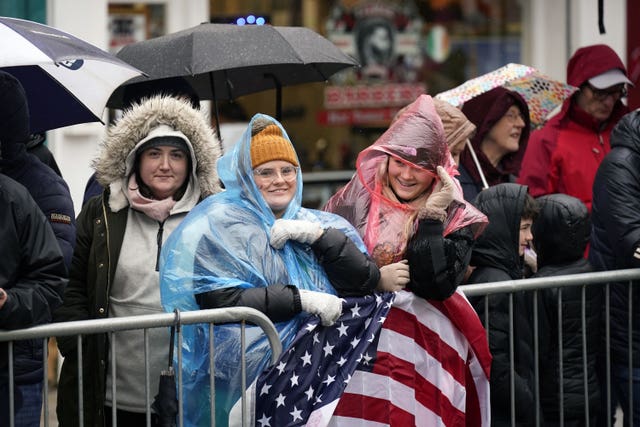 "He was talking a lot about his Irish background," he said.
Asked if Mr Biden was how he expected, Mr McAteer said: "He was taller, he was younger looking, he had amazing teeth.
"He has just a really easy manner and he was absolutely brilliant with the special needs kids."
Mr Wain described the president as "absolutely lovely" and "so sweet to all of us", and said he had been friendly from the first moment they spoke.
He added: "He just said my name is Joe, how are you doing?
"And it was just Joe, very simply just speaking to a great man."
He said he spoke with Mr Biden about their shared love of dogs.
Mr Wain said: "It was lovely to talk about animals, he's into dogs and rescue dogs and part of our work is with Dundalk dog rescue so there was a big part of that being the chat."
Mr Wain said it was an unforgettable day for him and his staff.
"Mindblowing, one of those days you'll never forget," he said.
The crowds once again cheered as Mr Biden emerged from the restaurant after around 25 minutes and headed to the nearby Windsor Bar in the town.
Tanaiste Micheal Martin and former Irish rugby player Rob Kearney joined the US president for the Dundalk visit.
Making remarks in the bar, Mr Biden said his trip to Co Louth "feels like coming home" as he also paid tribute to his sister Valerie and his son Hunter, who have accompanied him on the trip.