"Welcome home cousin Joe!" was the sign held up by a young girl, who, along with many other locals, had braved the relentless wind and rain to try to catch a glimpse of the President of the United States.
As Mr Biden and his huge entourage arrived in Carlingford, nestled on the very edge of a lough and by the mountain Slieve Foye, cheers went up.
"Feels wonderful, just like I'm coming home!" Mr Biden shouted down to reporters as he looked out from a ledge of the castle onto Carlingford Lough.
The exposed top half of the 12th century castle gives a wonderful view, and on a clear day you can see Warrenpoint, Co Down, from where Mr Biden's ancestors left Ireland for New York.
In the relentless wind and rain, the only cover the US leader had on Wednesday was a baseball cap, as he was briefed from two people from the Carlingford Heritage Centre about his family's history.
When asked about what he thought of the rain, which resulted in him cancelling a helicopter trip from Dublin and a visit to Kilwirra Cemetery, he said: "It's fine, it's Ireland!"
Gerry Hoey and Yvonne Keenan from the Carlingford Heritage Centre gave Mr Biden a tour of the castle, and he was told about his Irish ancestry.
"He's very family orientated," Mr Hoey said.
"When he came in, I was a bit apprehensive, it's not every day we have the President of the United States here."
But he said he gave people his time, and signed a photo of his grandson Thomas.
Amanda Stewart-McClean, a piper in the Carlingford Pipe Band who played music for Mr Biden as he arrived at the castle, said "it was so good" to be a part of the event.
"It's something I'm never going to be able to get to do again in my lifetime.
"It was such a privilege to be asked to do it," she told PA.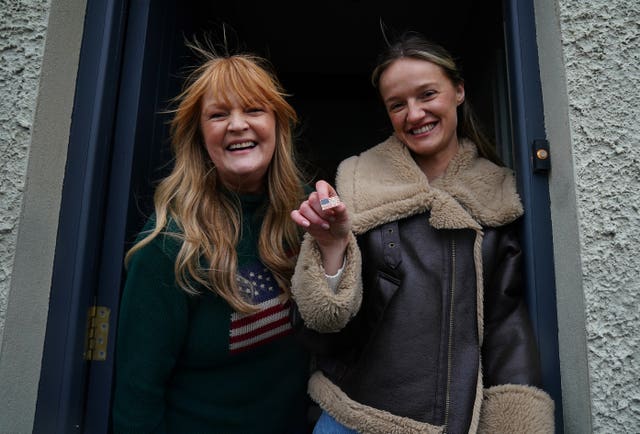 "It's funny, they all needed to use the bathroom," Siobhan said, while standing in the doorway of their aunt's house.
As the president left Carlingford and headed towards Dundalk, members of An Garda Siochana and the Secret Service availed of their restroom facilities, they said.
Luisa, wearing a green jumper with the US flag on it, welcomed them in to use the bathrooms, and as a thank you, they were given a Secret Service pin.
"It was really good fun," Siobhan said, smiling.