Joe Biden has declared he is home as he made a historic address to a packed Irish Parliament where he spoke of the strength of the Irish-US relationship and promised a future of unlimited shared possibilities.
The US president was welcomed with sustained, rapturous applause as he entered the chamber in Dublin's Leinster House to deliver a speech on Thursday.
Asking to be forgiven for his attempt at speaking the Irish language, he said "Ta me sa bhaile" (I am home).
Mr Biden is the fourth US president to address the Irish Parliament after John F Kennedy in 1963, Ronald Reagan in 1984 and Bill Clinton in 1995.
Later he also received a standing ovation at a banquet in his honour at Dublin Castle where he reiterated his message of solidarity between Ireland and the US.
As he reflected on his family roots he told the audience: "No barrier is too thick or too strong for Ireland or the United States of America.
"Let's renew our commitment to defending all the values we stand for. And let's remember, no barrier's too thick or too strong for Ireland or the United States of America. Especially today.
"There's nothing, and I mean this from the bottom of my heart, there's nothing our nations can't achieve if we do it together."
Addressing the same event, Irish premier Leo Varadkar said Ireland and the US have a shared history which unites their response to the war in Ukraine.
"When we show courage to defend the principle that all people are created equal, and we fight to protect those inalienable rights described so long ago when we become beacons of hope, as well as of liberty, helping others to find their own paths to freedom, and the freedom to achieve freedom – that is the promise of America. And that is the promise of Ireland too," he said.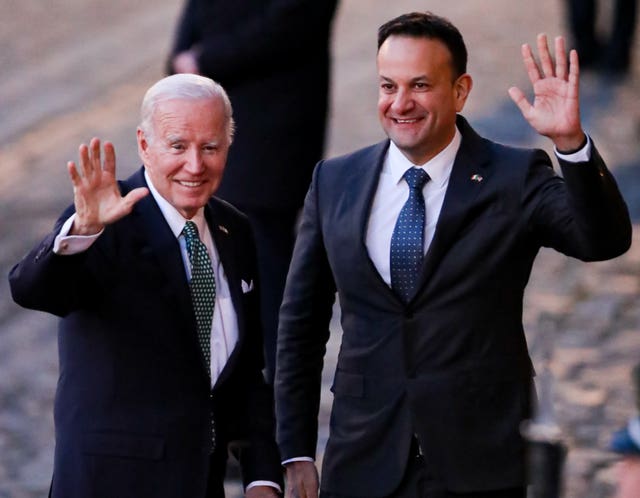 "Our hearts are filled with sympathy and understanding for the people of Ukraine, as well as the huddled masses who have been forced to flee, to go west to safety.
"Mr President, we thank you, your administration and your nation, for the leadership that you've shown on Ukraine.
"We stand with you, shoulder to shoulder, for as long as it takes."
Earlier in his speech to the Irish Parliament Mr Biden praised the "enduring" strength of the Irish-US relationship as he promised "a future poised for unlimited shared possibilities".
Big names in Irish politics and society congregated for the speech, as well as some members of the US Congress, a senator and Mr Biden's sister Valerie and son Hunter.
Former Irish president Mary McAleese and ex-taoisigh Bertie Ahern and Enda Kenny were among those present, as was former Sinn Fein leader Gerry Adams, who later tweeted a selfie of himself with Mr Biden.
Mr Biden spoke of the "precious" peace that must be "nurtured" in Northern Ireland as he suggested the UK should be working more closely with the Republic of Ireland to support the region.
Mr Biden said: "I think that the United Kingdom should be working closer with Ireland in this endeavour. Political violence must never be allowed again to take hold on this island."
Representing Northern Ireland politicians were SDLP leader Colum Eastwood, Alliance chief Naomi Long and Sinn Fein's Northern Ireland leader Michelle O'Neill.
Despite being invited, no unionist politicians attended.
The passionate address, which lasted around 30 minutes, began with Mr Biden looking upwards and saying:  "Well mom, you said it would happen."
He also referenced his son Beau, who died aged 46 in 2015 after suffering from brain cancer, with Mr Biden saying: "As a matter of fact he should be the one standing here giving this speech to you."
The speech contained numerous references to the president's family history and how his story is like that of so many other Irish Americans who left the island in search of a new life.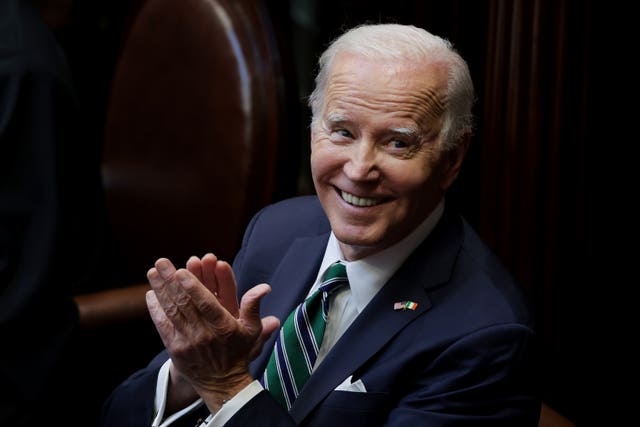 "Today I'd like to reflect on the enduring strength of the connections between Ireland and the United States, a partnership for the ages."
TDs and senators rose to their feet for a standing ovation as Mr Biden finished his speech.
Other special guests included Marie Heaney, widow of one of Mr Biden's favourite poets Seamus Heaney.
The poet, who would have turned 84 on Thursday, was likely to be "looking down on us with his glasses nestled between his fingers and a hint of a smile on his face", Dail speaker Sean O Fearghail said as he addressed those gathered before Mr Biden spoke.
Mr Biden then used the often-quoted "hope and history rhyme" line from Heaney's The Cure At Troy.
Mr Biden jokingly apologised to the infant for putting her through a policy speech, saying it is "as bad as what my children have been put through".