US President Joe Biden elated politicians by speaking Irish in the opening remarks of his speech in the Dail.
After asking forgiveness for his "poor attempt" at Irish, the president said "Ta me sa bhaile", meaning "I am home".
Mr Biden's Irish was not judged as harshly as he may have thought, as his short phrase was met with laughter and exultant applause by TDs, senators and party leaders gathered to hear him speak.
Before the president's address the speaker of the Dail, Sean O Fearghail, welcomed him as "one of us".
The president's decision to open with a phrase of Irish fits the tone of his trip as he has visited places relating to his own Irish heritage.
On Wednesday he toured Carlingford Castle and on Friday he will visit North Mayo Heritage and Genealogical Centre's family history research unit.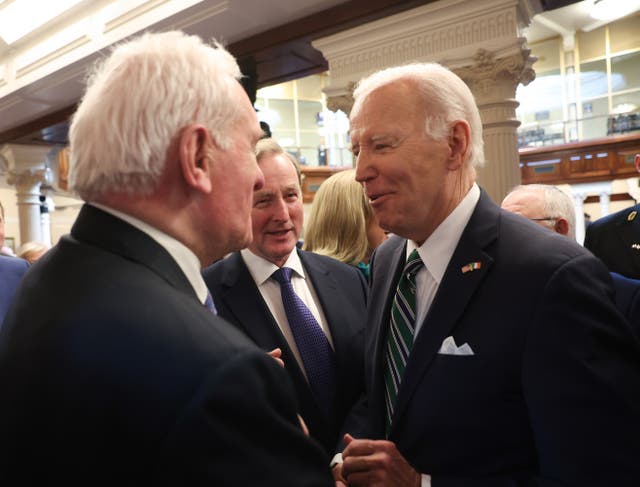 In her unprecedented visit to Ireland in 2011, Queen Elizabeth II shocked the audience at a dinner at Dublin Castle when she opened her address with "A Uachtarain, agus a chairde", which translates as "President and friends".
The late Queen's visit was the first since the country gained independence from Britain, and her choice to speak Irish prompted the then president Mary McAleese, seated beside her, to exclaim "wow", and the crowd to erupt into applause.
Mr Biden was also invited to attend a dinner in his honour at Dublin Castle on Thursday, on the penultimate evening of his visit to Ireland.