The number of people in England waiting to start hospital treatment has risen to a new high, though times for the longest waits are continuing to improve, figures show.
Ambulance response times for all types of emergencies have got longer, including for life-threatening illnesses and injuries, but remain below record levels.
Meanwhile around one in 10 people arriving at major A&E departments are having to wait more than 12 hours before being admitted, transferred or discharged – the first time data of this kind has been published.
An estimated 7.22 million people were waiting to start routine hospital treatment at the end of February, up slightly from 7.21 million in January and the highest total since records began in 2007, according to figures from NHS England.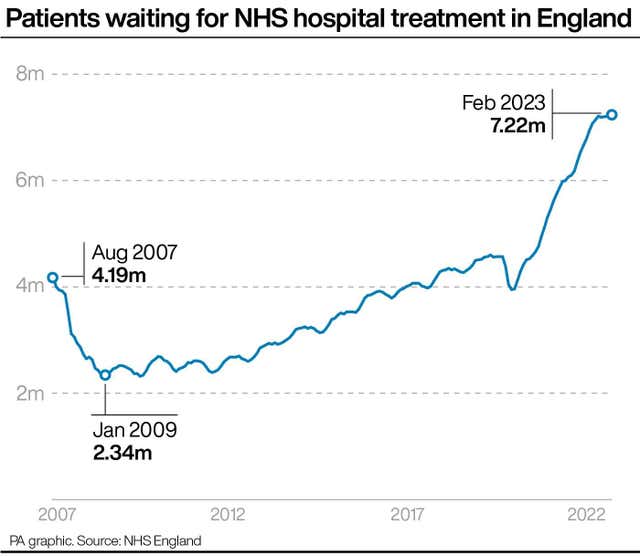 The number waiting more than a year-and-a-half for treatment has dropped from 45,631 to 29,778, a month-on-month fall of 35%, in fresh evidence that progress is being made on clearing the backlog of longest waits.
The Government and NHS England have set the ambition of eliminating all waits of more than 18 months by April 2023, excluding exceptionally complex cases or patients who choose to wait longer.
Waits of more than 52 weeks are down from 379,245 in January to 362,498 in February, with a target for eliminating them completely by March 2025.
Around one in 10 (10.6%) arrivals at hospitals with major A&E departments in February had to wait more than 12 hours before being admitted, discharged or transferred – the equivalent of 125,505 people.
It is the first time data has been published for waits of over 12 hours from the point of arrival, which is one of the commitments agreed by NHS England with the Government as part of the recovery plan for urgent and emergency care services.
Until now, figures have been available only for the number of people waiting more than 12 hours in A&E from a decision to admit to actually being admitted.
This figure stood at 39,671 in March, up 13% from 34,976 in February but below the record 54,532 in December 2022.
The latest data also shows that:
– The average response time in March for ambulances dealing with the most urgent incidents, defined as calls from people with life-threatening illnesses or injuries, was eight minutes and 49 seconds, up from eight minutes and 30 seconds in February and above the target standard response time of seven minutes.
– Ambulances took an average of 39 minutes and 33 seconds last month to respond to emergency calls such as heart attacks, strokes and sepsis, up from 32 minutes and 20 seconds in February, while the target is 18 minutes.
– Some 229,721 urgent cancer referrals were made by GPs in England in February, up 1% on January and 4% higher than a year earlier, in February 2022.
– Just 58.2% of the 14,082 cancer patients who had their first treatment in February after an urgent GP referral had waited less than two months, up from a record low of 54.4% the previous month but well below the target of 85%.
There has been an improvement in the proportion of patients urgently referred for suspected cancer who were then diagnosed or had cancer ruled out within 28 days, up from 67% in January to 75% in February – the first time the target of 75% has been met.
The figures coincide with a period that saw a number of strikes by NHS workers in England, including two days of industrial action by nurses in early February and three days of localised strikes by ambulance workers later in the month.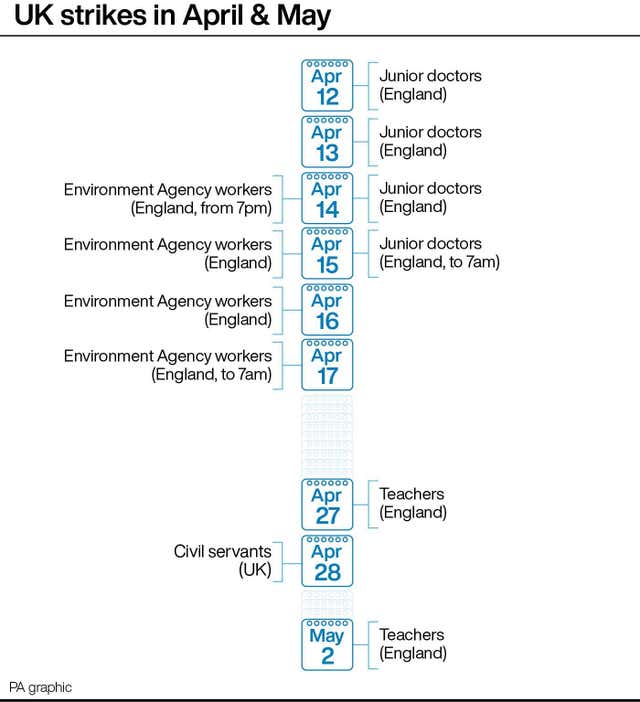 "Today's data shows demand on services is not relenting, with A&E attendances and ambulance call-outs in March recorded at the highest level so far this year – even higher than a very busy January.
"But amid the demand and industrial action, staff have progressed on key NHS priorities, with the number of people waiting the longest for elective care continuing to reduce while for the first time ever the NHS has also hit the faster diagnosis standard for cancer – with more patients getting a definitive diagnosis or the all-clear within 28 days.
"So while there is no let-up for services – and with almost 48 hours of strike action still to go – it remains as vital as ever that the public continue to come forward for care when they need it, using 999 in an emergency and using 111 online and making use of the expertise of pharmacies, GPs and community services for less urgent needs."
Junior doctors in England are currently in the middle of a 96-hour strike in an ongoing dispute about pay.
Liberal Democrat health and social care spokesperson Daisy Cooper MP said the rise in waiting lists was evidence of "another broken Conservative promise", adding the Government is "letting patients and their loved ones down badly, leaving far too many people waiting in pain for the treatment they need".