A former gambling addict and a bereaved father have said the Premier League's decision to remove betting sponsorship from the front of matchday shirts is "a start" and an "acceptance of the harm caused" by such adverts in football.
John Myers, whose son Ryan took his own life in 2014 when he was 27 after becoming addicted to gambling, described the move as a "small victory".
"It's a start. It's a small thing but it's something… small victories can help to win big wars," the 63-year-old civil servant from Huyton, Merseyside, told the PA news agency.
"It could have gone further but we'll keep on going and see what we can do about the rest of the gambling adverts around football."
"When he died, I managed to get on to Facebook and found that he was talking to another gambler trying to get help," Mr Myers said.
"He mentioned the adverts, saying that when he tried to stop, he couldn't get out of it.
"He felt it was pulling him back in everywhere he went, there were adverts whether it was at the football, whether it was in the newspaper or on the TV and on his phone as well."
"I don't think gambling should be part of football – it's a family thing," Mr Myers said.
"I'm not against people gambling – people can spend money how they want to – but I am against this predatory industry."
James Grimes is the founder of The Big Step, a campaign by Gambling With Lives that has seen those affected by betting addictions walk between football stadiums calling for an end to gambling ads in the sport.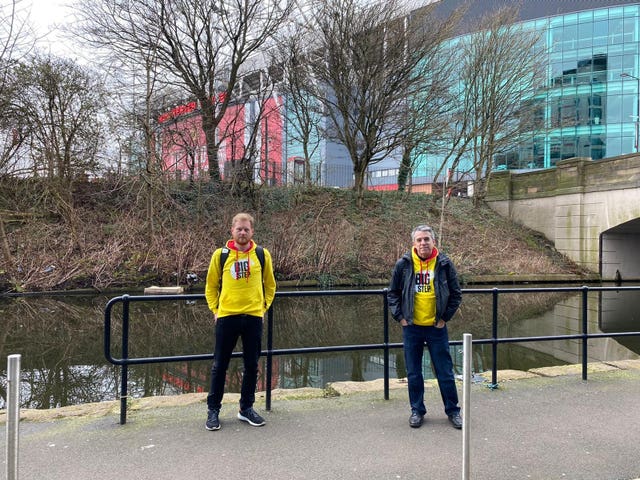 "I think it's a huge acceptance of the harm caused by gambling, advertising, sponsorship, and football," he said.
"It's not perfect. If you don't tackle pitch-side advertising in league sponsorship and other forms of advertising and football, it loses impact.
"So on its own, it's incoherent, and that's why we're trying to make sure this comes from Government and it includes all forms of gambling advertising, sponsorship and football."
Mr Grimes has been in recovery for five years.
"I started at 16 years old as a child with a £5 football bet believing the adverts at the time, which told me this was a safe, normal, risk-free activity," he said.
"I had no idea that it came with a risk to mental health at that age, I didn't realise it could become an addiction."
He said that one of his biggest regrets was the "impact on me as a person" but feels that he was "failed" by the gambling industry and the Government.
"It was my way into a 12-year addiction which caused depression, it caused anxiety. It took me to the point of not wanting to be here any more," he explained.
"I lost a lot of money but it's not the thing that I regret.
"The thing that I regret is the impact on me as a person, my life prospects, and the people around me.
"Gambling addiction strips everything from you and leaves you hopeless, helpless, broken, and thinking that it's all your own fault when actually I now look back and realise I was failed by the gambling industry."
He said that he was "failed by the Government" and by regulators because "none of them did enough to protect me as a child" from becoming addicted to gambling.
"Instead, the gambling companies profited from my addiction," he said.
Mr Grimes said that the gambling adverts on the pitch affected his viewing experience when watching football.
"I was trying to watch football but I literally couldn't watch football without wanting to bet on it," he said.
"Every time I watched it, I was seeing adverts for gambling on the shirts, on the pitch, and on TV.
"I'm trying to abstain from doing this thing that destroyed my life, yet my favourite sport is constantly encouraging me to do it."
Though Mr Grimes welcomes the move, he believes that more needs to be done to protect children and young people from seeing gambling adverts on the pitch.
"If I had children, I wouldn't take them to a football match whilst there is gambling, advertising and sponsorship, because I wouldn't want to risk them going through what I did," he said.
"I could now wear my club shirt, and not worry about them having a gambling company on, and I would proudly be able to wear that. But actually, there's still 700 adverts every match around the side of the pitch.
"That's difficult, so that's why we need that to be tackled too."