Internal party issues have left the SNP "completely distracted" from getting on with running the country, a Scotland Office minister has said.
John Lamont said the public are concerned about how the Scottish Government is operating amid a series of controversies within the party.
In recent weeks, the SNP has fielded criticism over its lack of transparency about the loss of 30,000 party members, resulting in the resignation of then chief executive Peter Murrell.
Mr Murrell was arrested and questioned last week amid a police investigation into the SNP's finances. He was released pending further inquiries.
Mr Lamont, the Conservative MP for Berwickshire, Roxburgh and Selkirk, urged the SNP to "get themselves sorted out".
He told the PA news agency: "When I was out and about in my constituency in the Scottish Borders last week knocking on doors, every single person almost without fail raised concerns about what was going on with the SNP Government in Edinburgh.
"That is undoubtedly a big, big concern for Scotland.
"It's very clear the SNP Government is now completely distracted by everything that is being reported.
"I know my constituents just want them to focus on the day-to-day job of running the NHS, running our schools well.
"They need to sort themselves out."
In a visit to Crookston Castle Early Years Centre in Glasgow on Thursday, First Minister Humza Yousaf said it "would have been better if we had been informed" about the resignation of the party's auditors.
But looking to the future, he said: "I've got a job to do which is not so much looking back over the past, but looking at what needs done now and into the future to make sure we're on firm footing when it comes to our auditors and getting replacement auditors in as soon as possible."
Mr Yousaf claimed the public are not overly concerned about the issues within the SNP.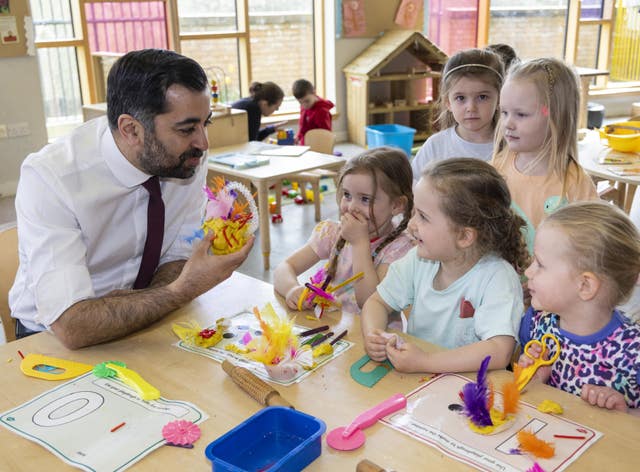 "They're more concerned about the economy and the businesses that they run or they work for.
"That's the issues I want to get back to talking about."
When Parliament returns from recess next week, Mr Yousaf said he hopes the Scottish Government will be able to focus on "talking about the priorities" of Scots.
"I've genuinely been speaking to… a number of members of the public and they tend to raise with me, not issues around membership numbers or auditors, but actually issues around their heating bills or the fact that they want to see our NHS recover.
"These are all issues that I think affect people more so than internal navel-gazing party issues."