Irish premier Leo Varadkar hailed the importance of US and European leadership, as he met with President Joe Biden in Dublin.
The Taoiseach, meeting Mr Biden at Farmleigh House in Phoenix Park, praised American leadership since the Russian invasion of Ukraine last year.
Mr Varadkar said he wanted to "thank you and your administration and your country's leadership when it comes to Ukraine because I never thought in my lifetime that we'd see a war of this nature happening in Europe again".
Mr Biden, who also met with the Irish leader in Washington on St Patrick's Day, praised Irish values and the country's acceptance of thousands of Ukrainian refugees as he spoke of a "stronger and stronger relationship" between the US and Ireland.
The pair are set to discuss efforts to restore powersharing in Northern Ireland, with Mr Varadkar thanking Mr Biden for US support for the Good Friday Agreement.
Mr Biden told Mr Varadkar it had been great to see him in Washington last month, and said: "I think there really is an opportunity to make serious progress, not just because of the accord that was signed 25 years ago, but in terms of the way Ireland is moving, the way it is taking its place in the world, working on helping countries around the world that are dealing with starvation, the way you've – I know it's not easy – welcomed Ukrainians here and the leadership you've shown."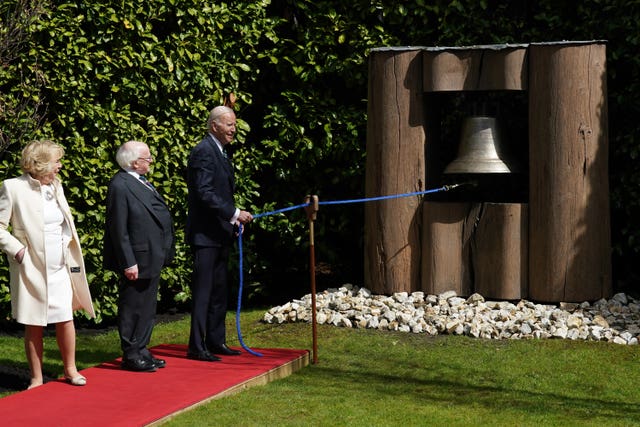 Speaking to Mr Varadkar, Mr Biden appeared to reference the progress made in securing the Windsor Framework – the deal between the EU and UK to amend the Northern Ireland Protocol – as he spoke of co-operation between the Taoiseach and Prime Minister Rishi Sunak as "very valuable as well".
The US president, who will address the Irish Parliament later on Thursday as part of a day filled with ceremonies and formal honours, was greeted at Aras an Uachtarain by Michael D Higgins as he continued his four-day visit to the island of Ireland.
Mr Biden, who stopped to speak to reporters after ringing the peace bell four times, said: "I hope that the government begins to function as it used to in terms of functioning as a representative body in the north.
"I think that's necessary and that's for you all to decide, not for me to decide."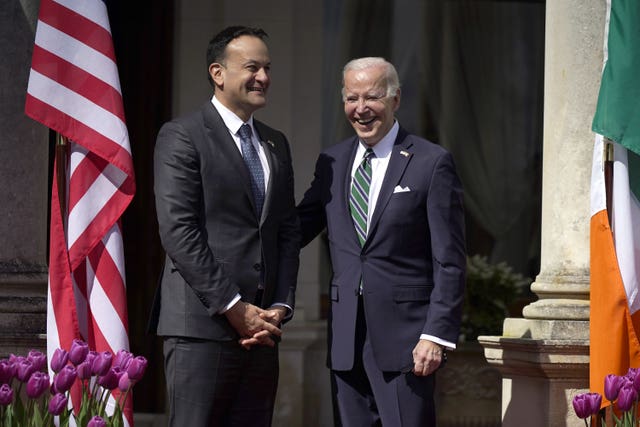 Mr Biden, who visited Belfast on Wednesday as part of a trip to mark the 25th anniversary of the peace accord, referenced former US senator George Mitchell, who chaired the negotiations which led to the agreement.
He said: "I'm very proud of my colleague George Mitchell. He did a fine job. He said 300 days of failure, one day of success. We have got to build on that one day."
Mr Biden is expected to later set out a "shared vision" for the future of US-Irish relations when he addresses both Houses of the Oireachtas.
He received a ceremonial welcome to Aras an Uachtarain, with his motorcade cheered by onlookers as it passed into the vast Phoenix Park.
A military band played the American national anthem as Mr Biden stood outside the grand residence with his right hand on his heart.
After listening to the Irish national anthem, the president inspected a guard of honour before being introduced to Irish dignitaries including Irish Defence Forces Chief of Staff Lieutenant General Sean Clancy and head of the Irish police, Garda Commissioner Drew Harris.
But Mr Biden was peppered with questions from reporters as he stood in the grounds of the Irish president's house, including on a high-profile national security leak and his feelings on being back in Ireland.
The world leader said it "feels great" to be home, adding: "I know it sounds silly."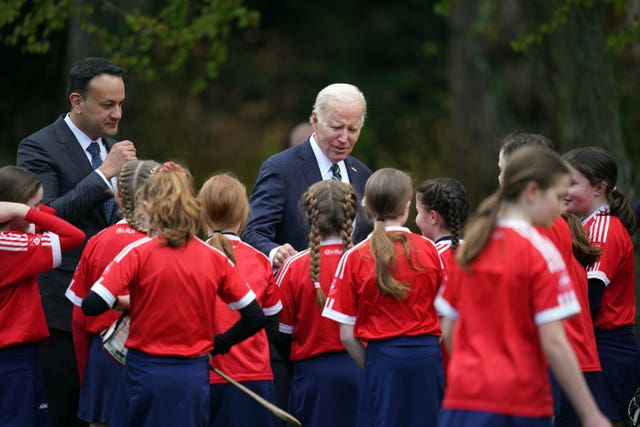 Mr Biden will be accompanied to the Irish parliament by Marie Heaney, the widow of his favourite poet, Seamus Heaney.
Nine members of the US Congress, one senator as well as Mr Biden's sister Valerie and son Hunter will attend the event, as well as former Irish president Mary McAleese, two former taoisigh, Bertie Ahern and Enda Kenny, Northern Ireland political leaders and Larysa Gerasko, ambassador of Ukraine to Ireland.
Mr Biden will attend a banquet in his honour at Dublin Castle hosted by Mr Varadkar in the evening.