US president Joe Biden broke down in tears on the final day of his Ireland tour after an emotional unplanned meeting with a priest who gave the last rites to his son.
The chaplain who performed the last rites sacrament on Mr Biden's son, Beau, now works at the Knock shrine in Co Mayo where the president paid a visit on Friday.
Fr Frank O'Grady performed the ceremony for Beau Biden before he died of brain cancer in 2015.
He received a call requesting that he meet the president, and later told RTE that the encounter was "like a reunion".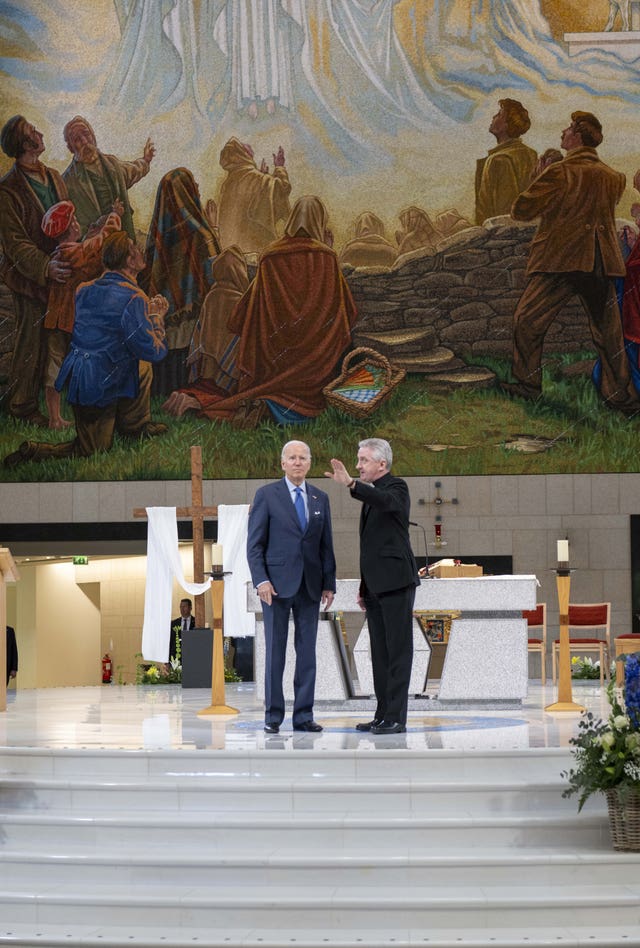 "He gave me a big hug, it was like a reunion. He told me he appreciated everything that was done."
He added: "I hadn't seen him really in eight years since Beau died. His son Hunter was there too, so we had a real reunion.
"He certainly misses his son. He has been grieving a lot but I think the grief is kind of going down a bit. We talked a little bit about how grief can take several years."
Mr Biden was given a tour of the Sanctuary of Our Lady of Knock – a Catholic pilgrimage site – by the Parish priest of Knock, Fr Richard Gibbons.
Recounting the emotional reunion between the US President and Fr O'Grady, he said: "It was an extraordinary afternoon. I won't forget it, I can tell you that it was quite something else."
After leaving Knock, Mr Biden travelled to Castlebar where he made a private visit to the Mayo Roscommon Hospice.
The president had a longstanding pledge to revisit the facility, having turned the sod on the development in 2017.
At the site Mr Biden, along with his son Hunter and sister Valerie, met with distant cousin Laurita Blewitt.
Meanwhile as crowds gathered in Ballina for Mr Biden's final public address, the atmosphere was compared to an All-Ireland final.
"There is a great sense of occasion here, there is great anticipation building for President Biden," Sinn Fein TD Rose Conway-Walsh said.
"The eyes of the world are on Mayo and on Ballina tonight and I think the river, the cathedral, lends itself to something really special."
Asked whether Mr Biden's visit could bring some good luck to the Mayo GAA team, she said: "We are hoping."
She said the event reminded her of an All-Ireland GAA final.
"It is that sense of anticipation when you're going into Croke Park, that you're expecting something good."
Mr Biden's visit to Co Mayo is set to end his four-day tour of the island after he touched down at the airport in Knock on Friday afternoon.
The trip is another return to ancestral roots for the president after his trip to Co Louth on Wednesday.
The president has repeatedly spoken with passion about his Irish heritage and described addressing the country's parliament on Thursday as "one of the great honours of my career".
He said "it's good to be back" as he was greeted by various dignitaries including transport minister Eamon Ryan and Mayo TD Dara Calleary after disembarking Air Force One at Ireland West airport.
"He's genuinely thrilled to be back in Ireland," Mr Ryan told reporters after speaking with him.
The final day of Mr Biden's trip – which former taoiseach Enda Kenny said was the longest presidential visit to Ireland ever – will culminate in a public address.
Mr Biden's great-great-great grandfather Edward Blewitt sold 27,000 bricks to the cathedral in 1827, which helped buy tickets for himself and his family to sail to America decades later in 1851.
After his arrival at the airport, the president first travelled to the Knock shrine where he was greeted by cheering crowds who lined the streets outside.
The president touched the apparition wall as part of his tour before Fr Gibbons accompanied him into the Apparition Chapel for some moments of quiet reflection.
The president is also visiting the North Mayo Heritage and Genealogical Centre's family history research unit.