US president Joe Biden was brought to tears after an emotional meeting with the priest who performed the last rites sacrament for his son.
Father Frank O'Grady performed the sacrament for Beau Biden who died of brain cancer in 2015.
Mr Biden toured Knock shrine in Co Mayo as part of his final day of engagements in Ireland.
Knock shrine is a Catholic pilgrimage site, where locals claimed to have seen an apparition of the Virgin Mary in 1879.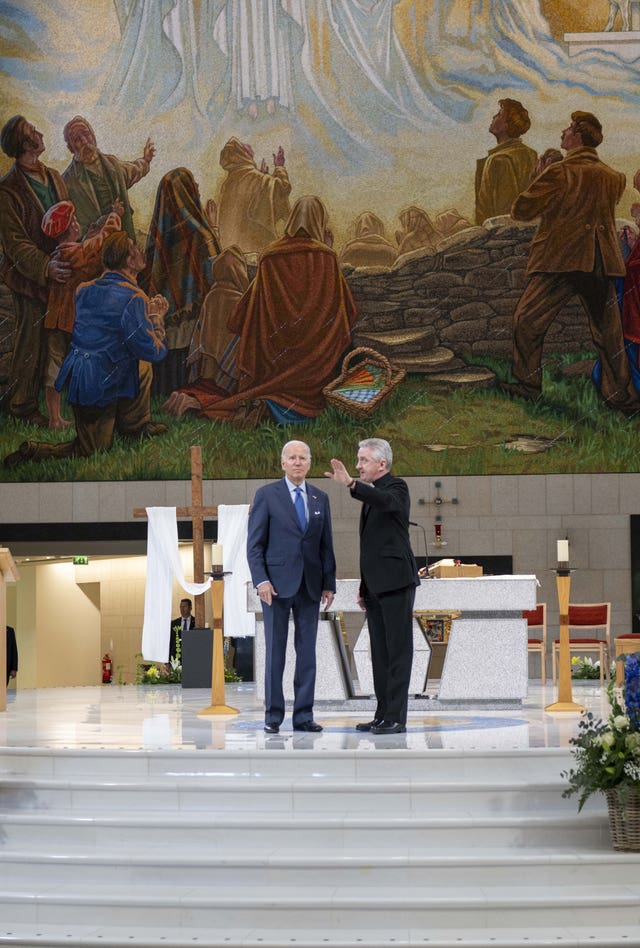 "He laughed, he cried, it just kind of hit the man, you could just see how deeply it all felt and meant to him," Fr Gibbons told the BBC.
He added: "It was an extraordinary afternoon. I won't forget it, I can tell you that it was quite something else."
Fr Gibbons said that he was unaware one of the priests in the parish had a personal connection to the president, and so the meeting of President Biden and Fr O'Grady was a last minute and chance encounter.
"He spoke about his family and his connection with his faith, and also about his son Beau who died," Fr Gibbons said.
"And it just so happened, and this was kind of spontaneous, it just so happened that we have, working at the shrine here, the chaplain who gives the last rites, the last anointing to his son in the United States.
"Just extraordinary, and I didn't even know that, I didn't know that until the president arrived.
Fr Gibbons said on learning of the connection, Mr Biden wanted to meet Fr O'Grady immediately.
"So he dispatched a Secret Service agent to go and find him, I had his number so I contacted him immediately," he said.
"And he got the shock of his life to come over you know, so that was a wonderful, spontaneous thing that happened."
Fr Gibbons said he would have arranged to have Fr O'Grady in the line-up to meet the US President if he had known.
"I asked, I said to Fr Frank O'Grady, 'Why didn't you tell me this when he came?' And he said, 'Well, I didn't want to say too much about it'," he said.
Fr O'Grady said meeting Mr Biden for the first time was like a reunion.
He told RTE: "We had a nice chat for about 10 minutes. He was delighted to see me and I was delighted to see him.
"He gave me a big hug, it was like a reunion. He told me he appreciated everything that was done."
Fr O'Grady said he had not seen Joe Biden since the death of his son Beau eight years ago.
"I was very surprised when I got a phone call to say the president wanted to see me," he said.
"It was a delightful 10 minutes with him. I hadn't seen him really in eight years since Beau died. His son Hunter was there too, so we had a real reunion.
"He certainly misses his son. He has been grieving a lot, but I think the grief is kind of going down a bit. We talked a little bit about how grief can take several years."
Fr O'Grady added: "He certainly was very impressed with Knock.
"As a man of great faith, it really hit home very hard to him about his son's passing when he comes to Knock, because we talk about mysteries of life and death in a place like Knock, all the time here.
"He is a man of great faith, and it is just a coincidence that I happened to meet him."
Fr Gibbons said Mr Biden had a private moment of prayer before receiving a rare gift from the holy site – a piece of stone from the wall where the apparition of the Virgin Mary reportedly occurred.
"We said a prayer, we said a decade of the Rosary for his family and we lit a candle and then he took a moment or two of private prayer and then we presented him with a gift of some of the original stone of the gable wall where the apparition took place," he said.
Mr Biden was pictured touching the original apparition wall before heading inside the chapel.
On his arrival at the shrine, the president was met by cheering crowds waving Ireland, US and Mayo flags, – one sign in the crowd read "Welcome Home Joe".
The pilgrimage location has been visited by several popes, most recently by Pope Francis in 2018.
Mr Biden is the second Catholic president and has been known to attend Holy Trinity Catholic Church in Washington's Georgetown neighbourhood, a few miles from the White House.
It is where the nation's first Catholic president, John F Kennedy, also attended mass in his time in office.
Upon arrival at Knock airport, Mr Biden was met by various dignitaries including transport minister Eamon Ryan and Mayo TD Dara Calleary.
Knock airport was opened in 1985 to attract visitors to the pilgrimage site.
It is the fourth busiest airport in Ireland, serving 722,000 passengers in 2022.