President Joe Biden's remarks that the UK should work more closely with Ireland to support the people of Northern Ireland was an exhortation for everyone to co-operate, Tanaiste Micheal Martin has said.
Mr Martin also said that be believed a speech by the president in Belfast earlier in the week could potentially help the political atmosphere in Northern Ireland, where powersharing institutions are currently suspended.
"I am pleased with Prime Minister (Rishi) Sunak, (Northern Ireland Secretary) Chris Heaton-Harris, there is a closer engagement already over the last while, that could get closer.
"I think the context was clear from the president, he was speaking in the context of all of us.
"He mentions the United States, the European Union, the United Kingdom and Ireland."
The Tanaiste added: "The Good Friday Agreement really depends on the very close relationship between the British Government and the Irish Government.
"That is the anchor to the peace, the anchor to future relationships."
A number of events have been taking place in Northern Ireland to mark the 25th anniversary of the Good Friday Agreement.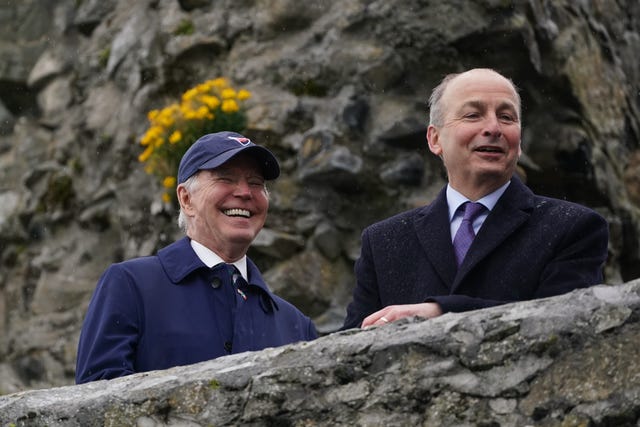 During an address in Belfast on Wednesday, Mr Biden said he hoped the institutions would soon return.
Mr Martin said: "I think his remarks will be helpful in terms of the atmosphere, in terms of the next number of weeks and months.
"I think it will have served a purpose, in respect of that I have no doubt."
He added: "I think the president did get the balance right in terms of that speech, but also in terms of, we are giving time and space to the DUP in terms of their analysis of the Windsor Agreement; but there is no immediate sign yet (of a return to powersharing at Stormont).
"But everybody, including the DUP, would acknowledge that the Windsor Agreement represents very significant progress.
"I think the people of Northern Ireland want the institutions back, of that I am clear, but I think the lessons we have all learnt from experience that it is better, as the President himself said, that people in the north come to the right conclusion, come to it themselves and make their mind up.
"All of the parties are very anxious to get the institutions restored."
Mr Martin also addressed comments earlier this week from former DUP leader Dame Arlene Foster that Joe Biden "hates" the United Kingdom.
Mr Martin said: "I was very surprised by that comment.
"The one word that you do not associate with Joe Biden is the word hate."