The top official for two local councils has recorded a rap video under the name T-Dawg to remind voters to take photo ID to the polling station for May's elections.
Trevor Holden, managing director of Broadland and South Norfolk councils, bounces in the crab position and waves his hands around while wearing a bucket hat during the 56-second clip.
He raps over a beat: "I've got something to say about May's local elections.
"T-Dawg spitting bars about voter ID selection.
The Government's new policy means people must not only be registered to vote but also take a form of ID such as a passport or driving licence when they head to their local polling station on May 4.
Electoral reform campaigners have raised concerns that it could make it harder for some voters to cast their ballot.
Prime Minister Rishi Sunak has said the change will help make sure voting is a "high-integrity process", despite no evidence of large-scale electoral fraud in the UK.
Mr Holden's video, posted on the local authority's social media channels, opens with cover art of a dark sky and him swinging in on a zipline.
It reads in a graffiti-style font "T-Dawg – ID Like A Boss", with a black and white logo in the corner saying "voter advisory useful content", in the style of parental advisory explicit content labels.
Mr Holden, who is also the returning officer for the councils, then appears, standing with his arms folded and nodding, as an auto-tuned vocal raps "T-Dawg on the track".
He bounces in the crab position, on a set of concrete steps by some election signage, and begins to rap.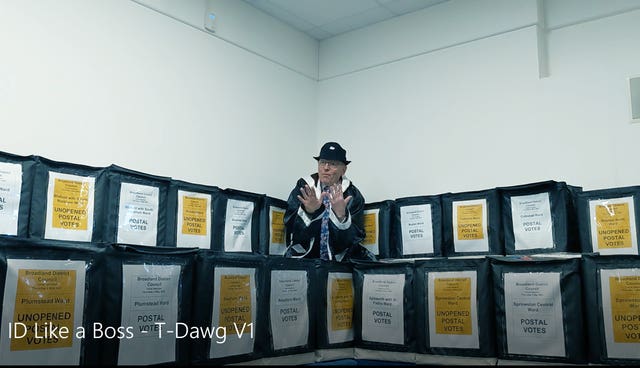 He raps: "Some may call it suppression but don't be a square.
"It's about making sure this election is fair.
"Your passport, your driving licence, you get the gist.
"Hop online to see the full extensive list."
He continues: "Make sure your vote counts and bring your ID.
"Looks like this card with a little photo of me.
"If you haven't got this identification, apply online for your voter authority certification.
"Come on guys, the message is clear, May's local election is drawing near.
"Bring your ID to make your vote count, this is what democracy is all about."
The video finishes with an explosion sound effect and Mr Holden giving peace signs with both hands, as a voice says "perfect".
Mr Holden, 60, told the PA news agency, he had challenged his "rather overly creative communications and marketing team" to find a way to get the message across on voter ID.
He said he had been worried people would turn up to polling stations without ID on the prescribed list and staff would have to turn them away.
The team came up with the idea for the rap and told him he should be the one rapping, he said.
"We thought we were going to get something that would land within our district on our social media feed and die a death after 24 hours," said Mr Holden.
"We had no concept that actually this was going to be probably the biggest cut-through on voter ID that we've had in the national conversation.
"It's really cool that it has because it's got people talking about it, whether they're going 'why on earth have they done that' or 'it's really good that they've done that', what they're doing is talking about voter ID."
He said that someone on social media has already done a cover version of the rap.
Asked if it was the beginning of his rap career, Mr Holden said: "I don't know if it's the beginning or the end or both – it might well be both.
"I'm in their hands for whatever they come up with next for what we do.
"But I've achieved two things: one, I think I've been played on national radio and two, there's a cover version.
"That's not a bad music career is it?"