A nursing union is set to announce the result of a ballot over a Government pay offer on Friday, as striking junior doctors urged the Health Secretary to get round the table to try to break the deadlock over their pay.
Members of the Royal College of Nursing (RCN) and Unison, which represents nurses and other health workers, have been voting on a proposed deal which includes a 5% pay rise this year and a cash payment for last year.
Voting ends on Friday and the RCN will announce the final result later, with reports in The Times and The Guardian suggesting it will likely show members have rejected ministers' offer.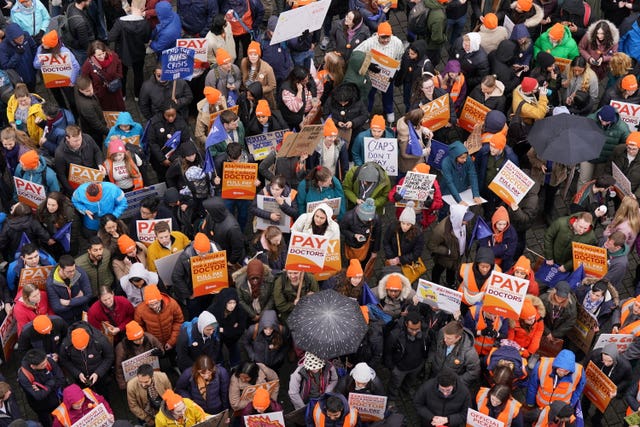 Leaders of both the RCN and Unison unions have recommended acceptance of the offer.
The ballots will close as around 47,000 junior doctors in England stage the final day of a four-day strike in an increasingly bitter dispute over pay.
The British Medical Association (BMA) junior doctors committee said it had again asked Health Secretary Steve Barclay to meet with them to discuss their demands for full pay restoration.
In the letter shared on Twitter, they wrote: "As we have consistently and repeatedly said, we do not have any preconditions to negotiations with you.
"We hope that you will set yours aside and engage with us in good faith."
They said they had confirmed their willingness to engage in a process facilitated by conciliation service Acas, adding: "We urge you to agree to this".
But Mr Barclay reiterated that their demand for a 35% pay rise is "unreasonable" and that talks cannot take place until junior doctors "call off strikes and put forward a realistic proposal".
"The onus is squarely on the shoulders of the junior doctors committee who've shown no signs of moving so far."
Conciliation would "improve things," said the former chief executive of Acas, which has said it is "well prepared and ready to help".
John Taylor told BBC's World At One programme: "Conciliation is not a silver bullet. It's not a miracle cure. What it will do is improve things."
The Department of Health and Social Care said it remains open to a role for Acas.
Hospital bosses have expressed concern about keeping patients safe as they struggle to secure cover for overnight junior doctor shifts during strikes.
During the strikes, staff who are still working have prioritised emergency and urgent care over some routine appointments and procedures to ensure safe care for those in life-threatening situations.
This means hundreds of thousands of appointments and operations have been rescheduled.
The BMA claims junior doctors in England have seen a 26% real-terms pay cut since 2008/09 because rises have been below inflation.
Meanwhile, civil servants confirmed a fresh wave of strikes as unions attacked an announcement of a pay rise for this year of between 4.5% and 5%.