Umbrellas have proved the must-have accessory at Aintree's Ladies Day as racegoers braved downpours.
Punters wore their finest for the second day of the Randox Grand National Festival on Friday, despite the introduction of a more relaxed dress code – but ponchos, coats and umbrellas were added to outfits during a rainy afternoon.
Asked if she had any tips for the races, 19-year-old Bethany Tinsley, from Ormskirk, said: "Bring a brolly!"
Morgan Russell, 26, from Wigan, said she had a poncho with her and an umbrella, although it did not match her outfit.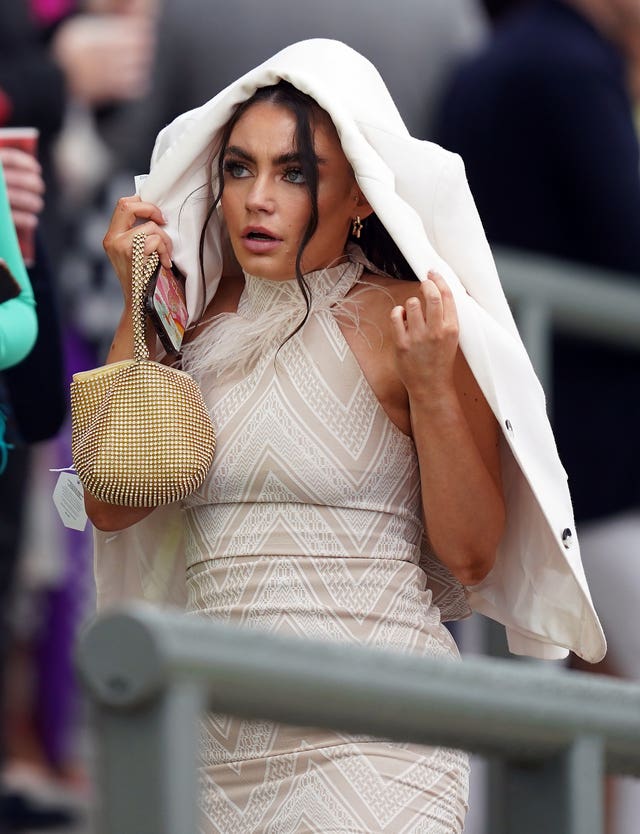 Megan Mousley, 23, from Old Swan, Liverpool, said: "It's been good but we wish it was sunny. We're freezing."
Former Coronation Street actress Helen Flanagan said: "I can't believe the weather, but you've just got to embrace it.
"I think that's actually really nice when you come here that all the girls are really dressed up, and even if it's pouring down and it's miserable weather, it's like a northern spirit that you just get on and still have a nice time."
This year The Jockey Club, which runs the racecourse, announced it was removing its formal dress code as part of a drive to make horseracing "accessible and inclusive".
Announcing the change at all of its 15 racecourses in February, the Jockey Club chief executive Nevin Truesdale said: "We hope that by no longer placing an expectation upon people of what they should and shouldn't wear, we can help highlight that racing really is for everyone."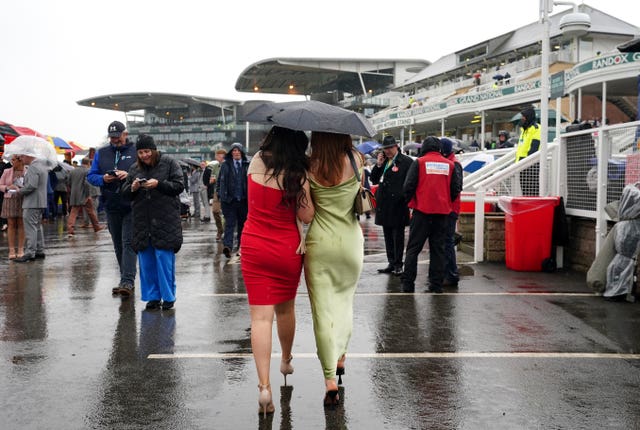 She said: "I always go all out for Ladies Day.
"I don't like to say it's a mistake to relax the dress code but people look forward to dressing up and there aren't enough opportunities for it.
"I think it's a mark of respect to the jockeys. It's important to maintain the tradition and there's nowhere better to do it than Liverpool – these girls won't take any notice!"
The day's fashion crown went to general surgery doctor Sian Jones, from Ellesmere Port, Cheshire, who claimed prizes including a £5,000 holiday as winner of the racecourse's 2023 Style Awards.
The 26,year-old, who wore a yellow floral top and matching maxi skirt, said: "I need to go somewhere warm on the holiday. It's quite cold today, but I'm really grateful for this skirt, because it is about eight layers thick.
"I'm having such a good day anyway, it's a nice atmosphere."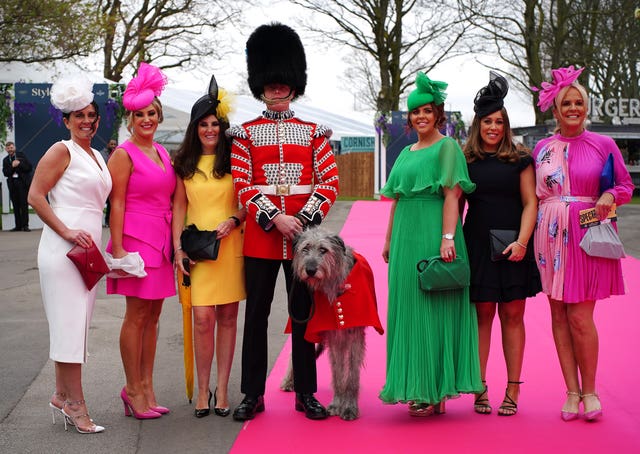 She said: "Everybody wants to dress up and looks forward to the day out."
Her partner Darren Ellis, 51, wearing a checked three-piece suit, added: "I'm a mechanic for a living so I like to get scrubbed up to come here.
"I wouldn't want to turn up in a T-shirt and jeans."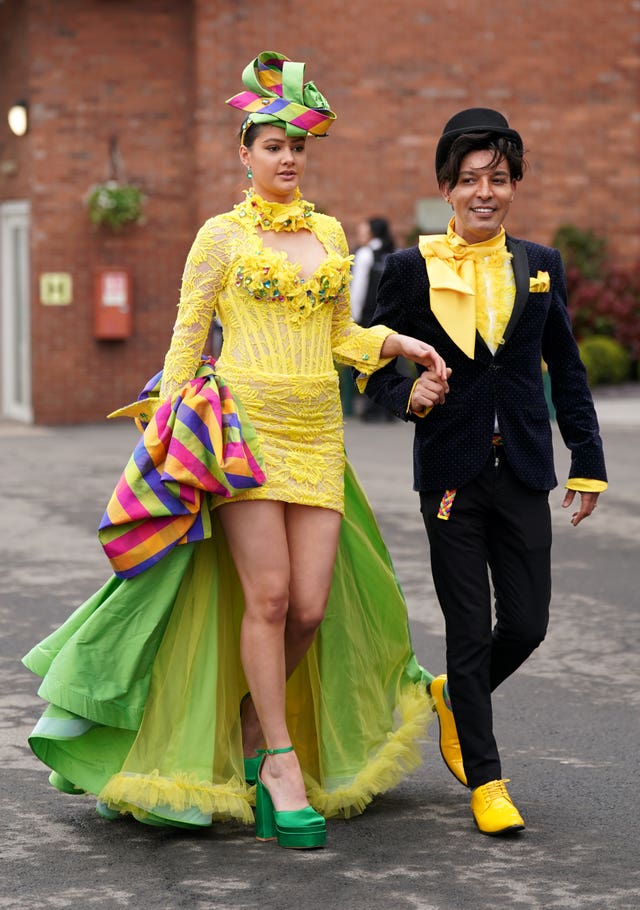 She said: "I feel great in this dress, it's amazing."
Mr Perez added: "Ladies Day is an opportunity for everyone to show their designs and their creations and it's very fashion forward."
Charlotte Graham, 38, from Lytham, Lancashire, matched her green dress with a shrug made from real flowers.
Ms Graham said the accessory was likely to be "in the bin" by the end of the day, adding: "No, it's not comfortable but my mum used to say you – have to suffer to look beautiful!
"I own a wedding dress shop and it was brought in by a florist for a photo shoot so I thought: 'I need that in my life'.
"I love the style at Ladies Day, I love all the colours. I hope that relaxing the dress code doesn't make a difference."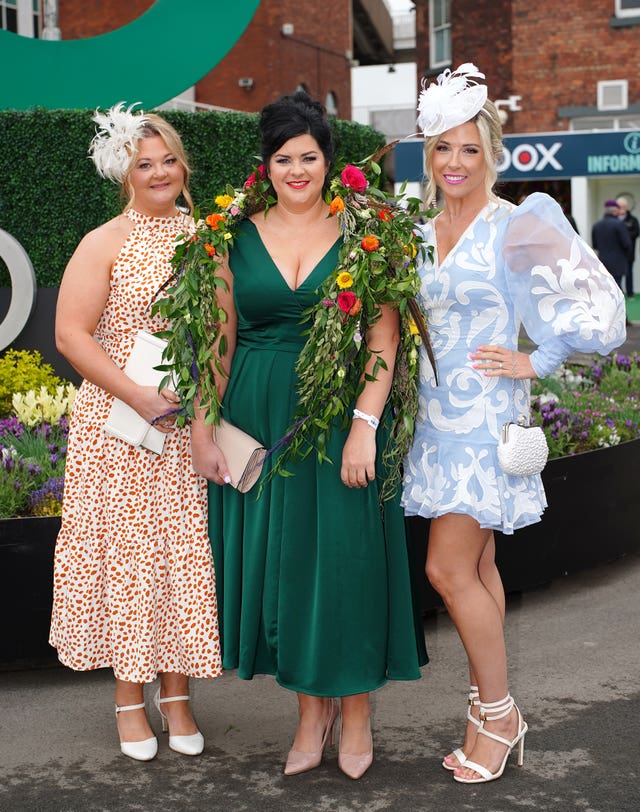 "Part of the fun is getting dressed up."
Elliot Jones, 25, at the races from Preston to celebrate his stag do, found some style restrictions were still in place as he had a fancy dress jockey's outfit taken from him at the gates.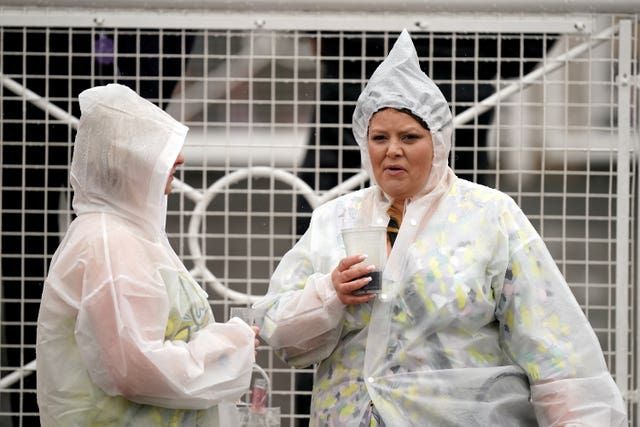 Famous faces at the racecourse on Friday included Olympic Gold medallist Sam Quek and boxer Natasha Jonas, who took part in the Grand Women's Summit, as well as former Formula One champion Sir Jackie Stewart, who founded Race Against Dementia, which is the official charity partner for the festival.
The race meet will culminate on Saturday, when the world-famous Grand National steeplechase will take place.
This year, activists from Animal Rising have threatened to stop the race and plan to meet at the racecourse on Saturday morning.