Bereaved family members have laid the shoes of their loved ones killed during the Troubles outside court buildings in Belfast in protest against the legacy Bill.
The Northern Ireland Troubles (Legacy and Reconciliation) Bill proposes offering immunity for people accused of crimes during the Troubles as long as they co-operate with a new truth recovery body.
It would also stop future court processes or inquests.
Catherine Ellis' young niece, Jacqueline, was killed in the Dublin and Monaghan bombings in 1974.
"It's heartbreaking what they're doing and we'd like answers," she said.
Ms Ellis said that victims of violence during the Troubles and their surviving families had been "totally ignored".
"We're totally ignored and it's a big let-down to us," she said.
The protest was organised by the Pat Finucane Centre, coinciding with political leaders meeting at Queen's University Belfast to discuss the Good Friday Agreement.
The shoes of the victims were laid on the ground outside the court alongside pictures and words from their families.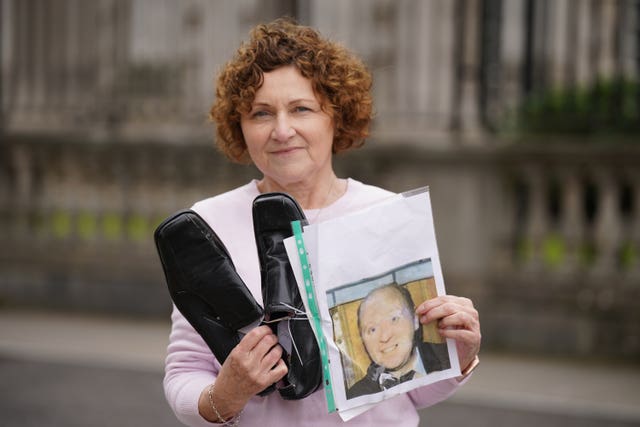 Ms Roddy said that her family were attending the protest to show they would not give up the fight for justice.
"We're still trying to get justice, the family are still fighting for justice. We cannot get the soldier to court," she said.
"If this legacy Bill goes through this will all be called to a halt. We've waited 52 years for this and we'll not give up and we're still trying and that's why I'm here today."
Ms Roddy said that victims' processes for justice were continually delayed.
"Victims have been ignored, we have tried every avenue and went through every possible way of finding justice but it's always held up," she said.
Ms Roddy added: "If it's held off long enough there'll be no one there to have to answer these charges."