Former US president Bill Clinton will join other political leaders from Northern Ireland's peace process era at a major conference commemorating the Good Friday Agreement.
Ex-prime minister Sir Tony Blair and former Taoiseach Bertie Ahern will also participate in the three-day event at Queen's University in Belfast 25 years on from the landmark accord.
Senator George Mitchell, who chaired the peace negotiations in 1998, will take part as well.
Former US secretary of state Hillary Clinton is hosting the conference as part of her role as chancellor at Queen's.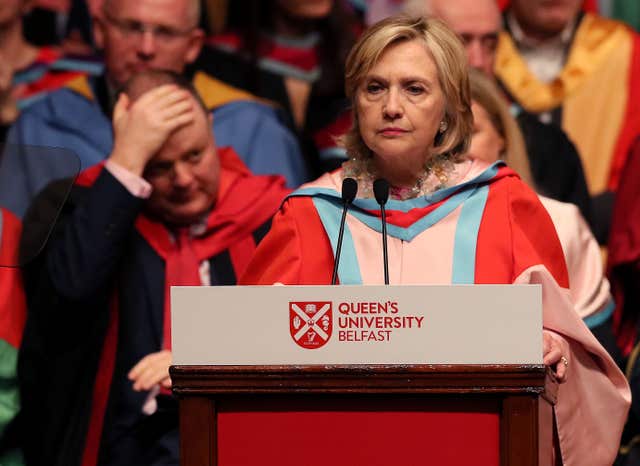 It is being hosted to mark the 25th anniversary of the agreement that largely ended Northern Ireland's 30-year sectarian conflict.
The world-renowned settlement created powersharing institutions at Stormont that involved nationalists and unionists governing Northern Ireland together in a mandatory coalition arrangement.
While the pact largely ended the Troubles, which had claimed more than 3,600 lives since the late 1960s, it has failed to bring long-term political stability in the region and devolution has collapsed several times in the last two decades.
The anniversary comes amid another period of collapse, as the DUP is blocking powersharing in protest at post-Brexit trading arrangements that have created economic barriers between Northern Ireland and Great Britain.
The UK and EU recently agreed the Windsor Framework as a way to cut the red tape created by the protocol.
While the DUP says the framework has gone some way to address its concerns about the protocol, it says significant problems remain.
The party has opposed the framework at Westminster and has made clear its boycott of Stormont will continue until it secures further assurances from the UK government over its concerns around sovereignty and the application of EU law in Northern Ireland.
Several events took place over the weekend ahead of the start of the conference.
On Sunday evening, a special dinner was held at Hillsborough Castle to mark the contribution to the peace process by the late Mo Mowlam, who was Northern Ireland Secretary in 1998.