Political parties in Northern Ireland should reach for compromise to resolve the current Stormont impasse, the man who chaired the Good Friday Agreement negotiations has said.
Former US senator George Mitchell urged leaders to act with the "courage and wisdom" that their predecessors had done 25 years ago.
Mr Mitchell was delivering the keynote speech on the first morning of the Agreement 25 conference at Queen's University in Belfast, marking the anniversary of the deal which largely ended the Troubles in Northern Ireland.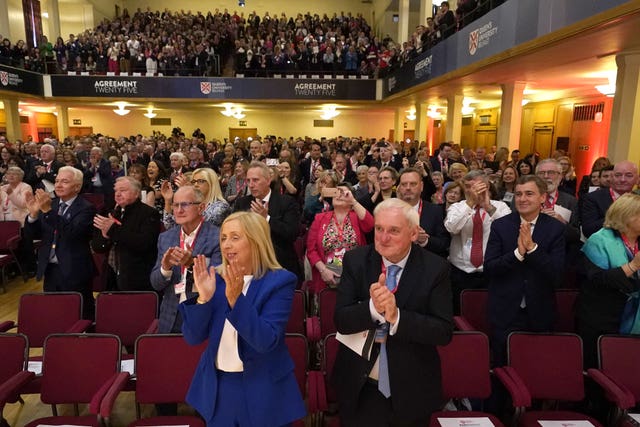 "They will continue to do so no matter how successful their political leaders are.
"The answer is not perfection or permanence, it is now, as it was then, for the current and future leaders of Northern Ireland to act with courage and vision as their predecessors did 25 years ago.
"To find workable answers to the daily problems of the present, to preserve peace.
"To leave to the next generation peace, freedom, opportunity and the hope of a better future for their children."
The Stormont powersharing institutions, the main element of the 1998 deal, are currently not operating due to disagreements over post-Brexit trading arrangements.
"I say to you that reasoned, principled compromise is essential, especially in divided societies. It reflects a belief in democratic values that we all are in this together.
"There is great depth in recognising that the only way to help us emerge from the rubble of conflict is that we must learn to understand one another. We don't need to love one another.
"We don't even need to like one another, although we hope we could. But we must learn to understand one another and to be able to say yes to one another, especially when the quicker and easier answer is no.
"Because, like it or not, we are all in this together, facing the reality of the future, rather than clinging to the myths of the past, takes strength and courage, and vision.
"Those we honour today showed those qualities a quarter of a century ago, they will be forever remembered."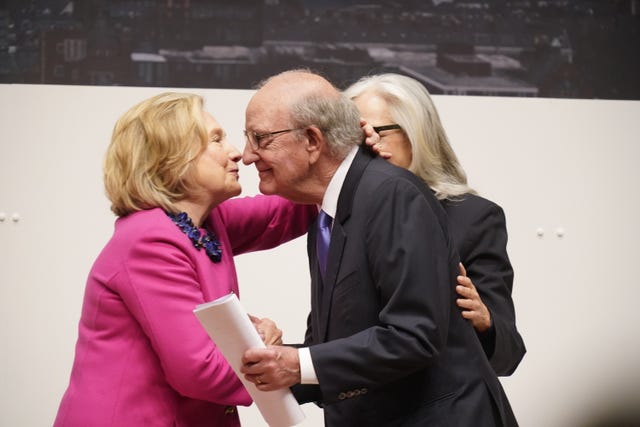 During his speech, he asked the audience to observe a moment of silence in tribute to the victims of the Troubles.
He also ask them to applaud for the politicians who struck the agreement 25 years ago.
"I say now to the current and future leaders of Northern Ireland, there is much in your history and in your politics that divide you, but there also is much that can bring you together, that can inspire you to continue what your predecessors began a quarter century ago," he said.
"It is not a sign of weakness to resolve your differences by democratic and peaceful means. To the contrary, it is a sign of strength and of wisdom, and it clearly reflects the will of the overwhelming majority of the people of Northern Ireland.
"Yes, they often disagree, sometimes very strongly.
"Yes, they may take offence quickly. But it is unmistakably clear that the people of Northern Ireland do not want to return to violence, not now and not ever."