Nearly 200,000 hospital appointments and procedures in England had to be rescheduled due to a strike by junior doctors.
Tens of thousands of junior doctors staged a 96-hour strike in a dispute over pay between April 11 and 15.
NHS England data showed 20,470 inpatient procedures had to be rescheduled, along with 175,755 outpatient appointments, making a total of 196,225.
An average of 26,145 staff per day were absent from work as a result of the industrial action.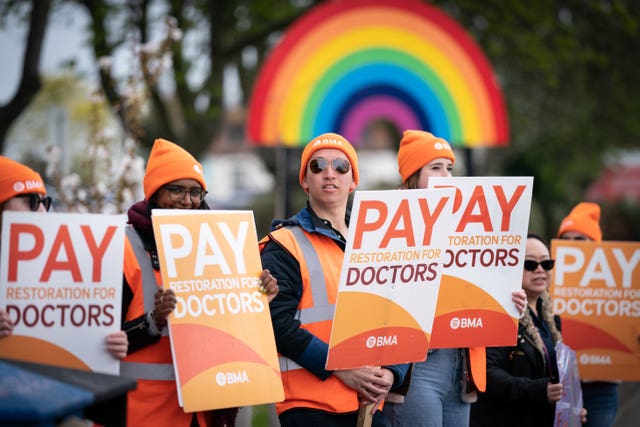 "Each of the 195,000 appointments postponed has an impact on the lives of individuals and their families and creates further pressure on services and on a tired workforce – and this is likely to be an underestimate of the impact as some areas provisionally avoided scheduling appointments for these strike days.
"Our staff now have an immense amount of work to catch up on hundreds of thousands of appointments, all while continuing to make progress on tackling the backlog of people who have been waiting the longest for treatment. We have now seen nearly half a million appointments rescheduled over the last five months, and with each strike, it becomes harder.
"While our staff are doing all they possibly can to manage the disruption, it is becoming increasingly difficult and the impact on patients and staff will unfortunately continue to worsen."
Dr Vivek Trivedi and Dr Robert Laurenson, of the British Medical Association's junior doctors committee said: "Junior doctors know all too well the frustration of patients waiting too long for care, and with a waiting list of 7.2 million in England, we are facing difficult conversations with them every single day.
"These millions of patients are not in this position because of strikes though. Persistent under-resourcing of the health service and under-valuing staff – exacerbated by a pandemic – mean we simply don't have the workforce and capacity to provide the high-quality and timely care that patients need and deserve.
"This is why we have been led to strike, and while we are of course sorry to anyone who had their care disrupted, this is the same apology we're already having to give to patients on a daily basis because the NHS cannot cope."
They also spoke of wanting to meet Health Secretary Steve Barclay "any time, anywhere", adding it is his "gift" to stop the dispute.
Mr Barclay said: "It's deeply disappointing that hundreds of thousands of appointments and procedures had to be cancelled last week as a result of some junior doctors taking strike action.
"This walkout clearly had an impact on many patients as well as hampering our efforts to cut NHS waiting lists.
"We remain ready to start formal talks with the BMA as soon as the union pauses its strikes and moves significantly from its unrealistic position of demanding a 35% pay increase – which would result in some junior doctors receiving a pay rise of £20,000.
"Thank you to all the staff who have worked tirelessly to cover for striking junior doctors during this period."
It comes as Rishi Sunak admitted meeting his promise to cut NHS waiting times will be "more challenging" as a result of further strikes.
Latest figures showed a record 7.22 million people were waiting to start routine hospital treatment at the end of February.
The Prime Minister claimed on Monday he was "still hopeful" NHS waiting lists could be driven down.
Mr Sunak said: "In spring this year I said we would practically eliminate those waiting a year and a half for their treatment and we were on track to do that – the industrial action obviously makes that more challenging but we are pushing hard to meet that target."
He added: "I do remain hopeful – of course industrial action makes these things more challenging."
Elsewhere, the Royal College of Nursing (RCN) is set to return to the picket line after rejecting a pay offer.
NHS Providers chief executive Sir Julian Hartley said: "Nobody in the NHS wants patients to be left waiting longer for appointments but the disruption caused by strikes is piling even more pressure on overstretched services already facing a chronic capacity crunch, putting a brake on progress in bringing down waiting lists.
"Trust leaders and staff are working flat out to see patients as quickly as possible, having slashed the longest waits for treatment.
"Their hard work has also meant that front line teams have made major inroads into reducing the number of people waiting more than 78 weeks for planned care: a remarkable achievement under the circumstances.
"But on top of the effects of more than a decade of underinvestment, ever-growing demand for services and severe staff shortages we now face weeks and weeks of trying to catch up with activity lost on strike days.
"Trust leaders understand why staff across the NHS who have seen their pay fall behind inflation year after year have taken to the picket lines."