Rishi Sunak has admitted there are not enough teachers to fulfil existing requirements as he failed to say when he will deliver his vision to get everyone studying maths until adulthood.
In the second speech to announce his "maths to 18" policy for England, the Prime Minister on Monday could not commit to begin rolling out the plans this year.
Mr Sunak, who was an investment banker before entering politics, insisted he does not want everyone to study maths at A-Level but wants to boost the nation's poor levels of numeracy.
Critics argue that the Government has cut its recruitment target for maths teachers by 39% since 2020, and has failed to even achieve that.
Discussing the policy at a north London college, the Prime Minister admitted that even despite progress the UK is "one of the least numerate countries in the developed world".
He denied this was a failure of just previous Conservative governments as he conceded more than one million adults have numeracy skills below those expected of nine-year-olds and a third do not pass maths GCSE.
But Mr Sunak accepted there are not enough maths teachers to even meet existing requirements, let alone fulfil his vision, which he hopes will boost the economy.
"On teachers, yes we need already, and we will need more maths teachers, and we know that," he said at the London Screen Academy, in Islington.
Mr Sunak said teenagers will be made to study maths in "some form" until 18 and said it must be "additional to other subjects, not instead of them".
"Let me be absolutely clear: I am not saying that the answer is A-Level maths for everyone, but we do need to work out the maths our young people should study," he said.
"When I first announced this in January, I saw some of the reaction to it and I thought that actually spoke to this anti-maths mindset that we've got to challenge a little bit."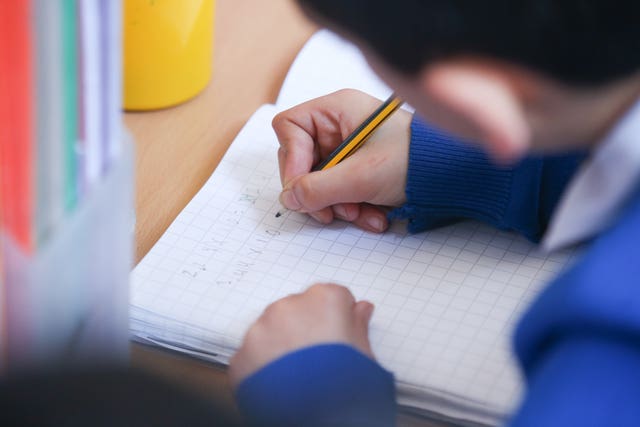 An expert group he was appointing to a "sense of the curriculum" required to meet his vision will unveil their proposals in around July.
"Once we have that you could expect us later in the year to be able to then come back and say this is how we will implement it over what timescale," he added.
"You can't rush something like this, it's a big reform and it's important we get it right."
But Mr Sunak was warned that the pending teaching strikes are the most imminent issue he must tackle to improve education with walkouts set for later this month.
He insisted he has "worked really hard" to give a "reasonable and fair settlement", which he said represents an 8% increase for most teachers.
Geoff Barton, general secretary of the Association of School and College Leaders, urged him to resolve the dispute instead of "re-announcing a vague and poorly thought-out policy", which he first set out in January.
"It seems like an attempt to divert attention away from the most pressing matter in education in England which is the industrial dispute triggered by the erosion of teacher pay and conditions and resulting crisis in recruiting and retaining enough staff," he said.
"These severe shortages directly undermine the Prime Minister's ambition because it means there are not enough maths teachers to deliver even the existing requirements let alone extend maths to every pupil to the age of 18."
Labour criticised the "empty pledge", with shadow education secretary Bridget Phillipson saying: "Once again, the Prime Minister needs to show his working: he cannot deliver this reheated, empty pledge without more maths teachers.
"But after 13 years of failing our children, the Tory Government repeatedly misses their target for new maths teachers, with maths attainment gaps widening and existing teachers leaving in their droves."
Sam Sims, chief executive of the charity National Numeracy, said: "Addressing poor numeracy needs to start much earlier than 16. We need a cradle to career vision for numeracy in the UK."
Schools minister Nick Gibb admitted that there were "challenges", but said it was right to be ambitious.
"There are challenges in recruiting graduates into teaching. The graduate market is very competitive."
"It's why we are giving £27,000 tax-free bursaries to people to come in to train to be math teachers. So we know there's a challenge but that doesn't mean to say you shouldn't have an ambition to make sure that more of our young people are equipped for the modern economy," he told BBC Radio 4's PM programme.
The National Education Union's joint general secretary Mary Bousted said: "Let's not forget that this is a Government that has cut its recruitment target for maths teachers by 39% since 2020.
"Parents and school staff will be left scratching their heads at this latest announcement from the Prime Minister. Taken as a whole, the Government's policies on education simply don't add up."