The wife of a British-Russian opposition leader jailed for 25 years has said she is "baffled" that those involved in his trial have not yet been sanctioned by the UK.
Vladimir Kara-Murza was sentenced to prison by a court in Moscow after he was convicted of treason and denigrating the Russian military in proceedings the Kremlin critic called a show trial.
Foreign Secretary James Cleverly has condemned the decision and praised Mr Kara-Murza for "bravely" denouncing the Russian invasion of Ukraine.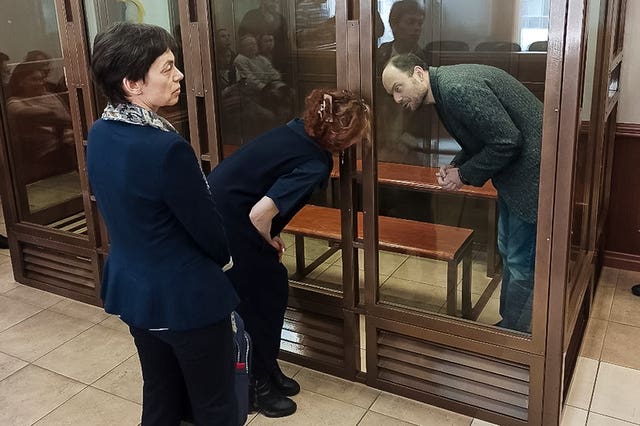 Mrs Kara-Murza told the PA news agency: "I would very much like to see the British Government actually doing something in Vladimir's case.
"I would like to see the British Government introduce sanctions against the violators of my husband's rights.
"Canada has already introduced sanctions even though he is not a Canadian citizen."
The United States and Latvia have also imposed sanctions on those involved in Mr Kara-Murza's prosecution.
She added: "I know that the UK authorities have had a list of the violators for months, so I am honestly baffled that these sanctions have not been introduced."
Mrs Kara-Murza also asked that the UK demand an independent medical assessment for her husband, who has twice survived poisonings that left him in a coma.
She said: "He is dragging both his feet because he is losing feeling in his feet and his left hand, and this is a condition that can lead to paralysis.
"It is honestly becoming a question of life and death. Expressions of concern are not enough anymore."
Likening her husband's prison term to punishments handed out under Joseph Stalin, Mrs Kara-Murza added: "I believe that those Russian citizens who continue opposing the war despite all odds, who continue opposing the regime despite all odds, have to see the solidarity and support of the global democratic community."
Mr Kara-Murza holds a British passport and embassy officials attended his trial to demonstrate the UK's concern in his case.
The judge who presided over the trial, Sergei Podoprigorov, has already been sanctioned by Britain for what it called previous involvement in human rights violations, as has Dmitry Komnov, the head of the detention centre where Mr Kara-Murza is being held.
Foreign Office minister Andrew Mitchell told the House of Commons on Monday that the Government was considering further sanctions and expected to "come forward with a package of further measures" within a week.
Alicia Kearns, the Conservative chair of the Commons Foreign Affairs Committee, welcomed the prospect of sanctions but said the Government should have acted more quickly.
She tweeted: "Welcome the Government's commitment to bring forward a list of sanctions within a week following the heinous miscarriage of justice against Vladimir Kara-Murza.
"However we know there's no justice in Russia, and this sentence was pre-determined. We should have been prepared with these sanctions today and action against the Russian Government."
Following the news of Mr Kara-Murza's sentencing, Foreign Secretary James Cleverly said: "Vladimir Kara-Murza bravely denounced Russia's invasion of Ukraine for what it was – a blatant violation of international law and the UN Charter.
"Russia's lack of commitment to protecting fundamental human rights, including freedom of expression, is alarming. We continue to urge Russia to adhere to its international obligations including Vladimir Kara-Murza's entitlement to proper healthcare.
"I pay tribute to Mr Kara-Murza and his family, including his wife Evgenia and her unwavering commitment to raising her husband's cause on the international stage. The UK will continue to support them and to call for Mr Kara-Murza's immediate release."