Humza Yousaf has dismissed concerns over a leaked video of Nicola Sturgeon, saying he is not "disturbed" by it.
He also said there was no case for Ms Sturgeon to be suspended from the SNP.
Published by the Sunday Mail, the video appears to show the then first minister addressing a meeting of the party's ruling national executive committee (NEC).
She told the NEC that the party had "never been in a stronger financial position than it is now", adding: "I'm not going to get into the details … but just be very careful about suggestions that there are problems with the party's finances because we depend on donors to donate – there are no reasons for people to be concerned about the party's finances and all of us need to be careful about suggesting that there is."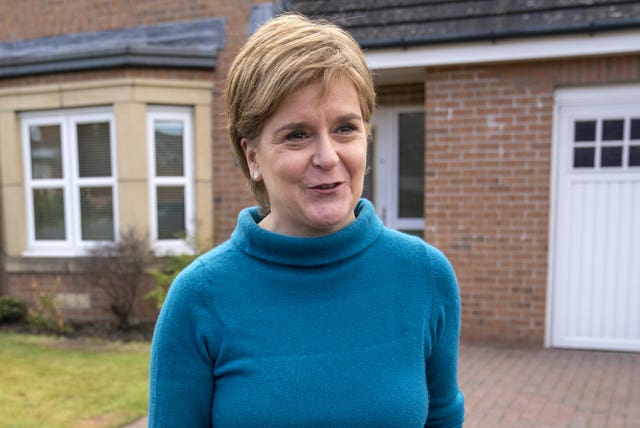 Mr Yousaf was asked about the video after he spoke to at STUC conference in Dundee.
He told journalists: "It tends to be the case that you fundraise in advance of an election and tend to spend quite a fair bit of money during an election.
"After the election, of course, is when you want to make sure you can address any cash flow issues that you might have as a result of that big spend.
He said he did not think Ms Sturgeon would resign as an MSP.
The First Minister said: "We are far past the time of judging what a woman does based on what happens to her husband."
Asked if she should be suspended, he said "not at all".
"That was in March 2021, we're obviously in a different position now.
"My absolute focus is to make sure we get auditors in place – (that's) exceptionally important given the Electoral Commission deadline."
He added: "Nobody ever said the job of first minister or indeed leader of the SNP was going to be an easy task."
Earlier, SNP MP Ian Blackford rejected calls for Ms Sturgeon to be suspended.
"Goodness gracious, absolutely not, there's no reason for that at all," Mr Blackford told BBC Radio Scotland on Monday when asked if the former first minister should be sanctioned by the SNP.
"I think that's some of our opponents politicking, really, in this context."
Of the video, Mr Blackford said, there was "nothing which was in any way untoward", adding: "What the (former) first minister was reflecting on was the ability of the SNP to conduct itself as an organisation, having the financial resources in order to fight elections and to support its members."
The video was reportedly from a meeting of the ruling body in March 2021, days before a complaint was made to police about the use of £600,000 of donations earmarked for an independence referendum campaign, which would result in a police investigation and the subsequent arrest of her husband, and former SNP chief executive, Peter Murrell.
Mr Murrell was released without charge "pending further investigation".
The release of the video compounds the torrid start to First Minister Humza Yousaf's tenure as SNP leader.
On Tuesday, he will set out his priorities for his premiership, with Ms Sturgeon reportedly planning to stay away from Holyrood.
A spokeswoman for Ms Sturgeon said on Monday: "In order to ensure the focus of this week is on the new First Minister setting out his priorities for the people of Scotland, Ms Sturgeon has always intended to participate remotely and intends to return to Holyrood in the near future."
A report in the Daily Telegraph suggesting Ms Sturgeon would step down as an MSP was dismissed by the former Westminster leader as "idle speculation".