Applications to vote jumped sharply on Monday, the last day people were able to register ahead of next month's local elections in England.
A total of 53,849 applications were submitted, the highest for a single day so far this year and just over double the previous high of 26,567, which was set on Friday.
An average of 26,702 applications were made per day in the week to April 17, up from 15,054 the previous week, according to Government figures.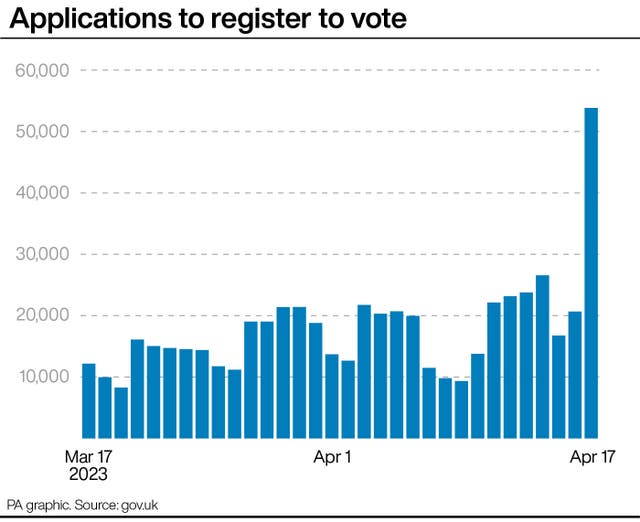 Polls are also taking place to choose mayors in Bedford, Leicester, Mansfield and Middlesbrough.
Not everyone applying to vote will be a new voter, as some may already be registered while others might not be eligible to take part.
But the spike in applications suggests a growing interest in the local elections, which are now a little over two weeks away.
Anyone who wants to use a postal vote in the elections must send their application to their local council by 5pm on Tuesday.
Meanwhile, everybody who intends to vote in person will need to show a form of photo identification at their polling station, which is compulsory in England for the first time.
Not all types of photo ID will be accepted, but a passport, driving licence or blue badge are valid.
Anyone without the correct identification will need to apply for a voter authority certificate by April 25, which can be done online at gov.uk/apply-for-photo-id-voter-authority-certificate.
Elections are not taking place in all parts of England this year.
There are no contests in London and Birmingham, along with other areas including Cornwall, North Yorkshire and Cumbria.
Separate local elections are being held in Northern Ireland on May 18, though the deadline to register here is not until April 28.
The Government's introduction of compulsory photo ID has been branded "expensive" and "unnecessary" by Labour and sparked concern among electoral reform campaigners, who say it could make it harder for some voters to cast their ballot.
The Electoral Commission said extra staff will be deployed at some polling stations to make sure voters are aware of the new rules and to help manage queues.
There have been 67,234 online applications for a voter authority certificate (VAC) since the scheme opened on January 16 this year.
The average number of VAC applications per day stood at 1,735 in the week to April 17, up from 873 the previous week.
Some 2,627 applications were submitted on April 14, the highest number on a single day so far.
Just 6% of all VAC applications have been made by people under 25, while 3% have come from those aged 75 and over, according to analysis of Government data by the PA news agency.
Applications from 55 to 64-year-olds account for nearly a third (32%) of the total; followed by 45 to 54-year-olds (23%); 35 to 44-year-olds (16%); 65 to 74-year-olds (10%) and 25 to 34-year-olds (10%).