The US ambassador to the UK has said economic progress in Northern Ireland depends on political stability.
Jane Hartley was speaking at the Agreement 25 conference at Queen's University Belfast.
Ms Harley said progress needed to be made and encouraged politicians to recapture the spirit of the Good Friday Agreement.
"The Belfast Good Friday remains a stunning achievement to this day and the foundation of Northern Ireland's progress in the years since," she said.
"But our task today is not to look backward, our task is to look forward and determine how to make progress where progress still needs to be made."
She added: "Let us dedicate ourselves to recapturing its spirit, its spirit of renewal, its spirit of compromise, the focus on creating more opportunity for the next generation."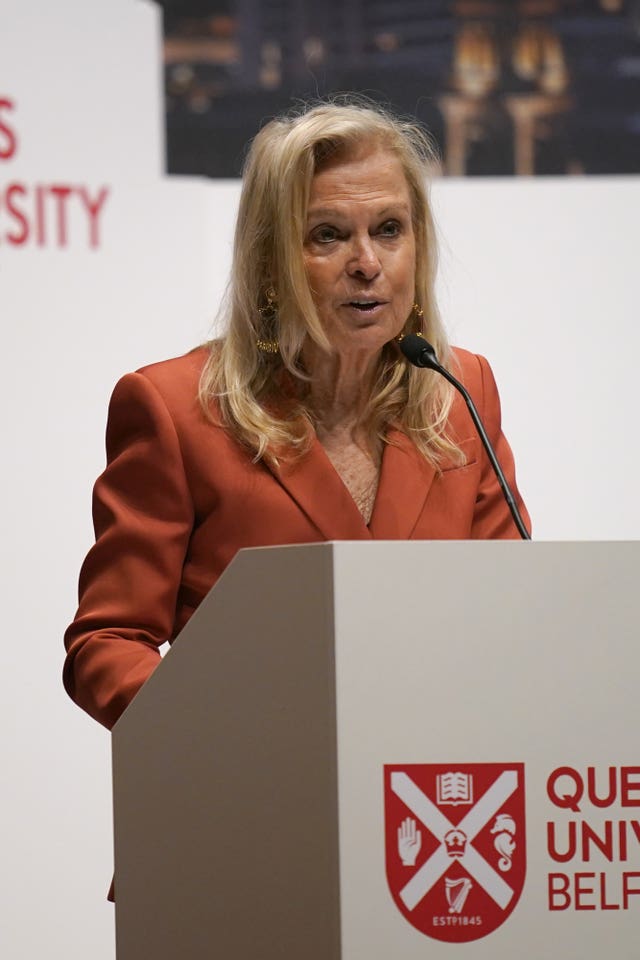 During his visit to Belfast last week, US president Joe Biden insisted a stable devolved government could deliver an economic windfall for the region.
Ms Hartley said she wanted to build on the US economic investment in Northern Ireland.
"As many of you know the United States is the single largest source of foreign direct investment into Northern Ireland," she said.
"My feeling is, let's build on that, let's show the world what Northern Ireland has to offer."
"We need that spirit of renewal right now, we need to get back to governing and Northern Ireland needs to get back to governing and growing, because economic progress depends on political stability," she said.
"And in my view the Windsor Framework gives everyone a road map towards a more prosperous future.
"So the task is for all parties to walk a few more brave steps and get back to the hard work of government.
"Because democracy, however messy, however imperfect, remains the best way for Northern Ireland to decide its own destiny."
Representatives from the five biggest parties in Northern Ireland met on a panel at the conference on Tuesday to discuss issues surrounding the Northern Ireland assembly and the long-term future of the region.
"I think they took some brave steps in that panel and I hope we can see scenes like that very soon happening again, discussions, conversations at Stormont," she said.
Ms Hartley concluded her speech by reiterating the optimism shared by Mr Biden during his four-day visit to the island of Ireland.
"America believes in Northern Ireland," she said.
"We believe in you, we are committed to your progress, we have faith in the peace that you have built and we believe there is no turning back."