Inflation is expected to drop back below 10% for the first time since last August, when the latest official figures are released on Wednesday.
The Office for National Statistics (ONS) is set to show that the rate of Consumer Prices Index (CPI) inflation fell to 9.8% last month, according to a consensus of economists.
It would be a return to a decline after a shock increase to 10.4% in February due to soaring food prices.
Households are still expected to face pressure on their finances for the coming months but policymakers will be keen to see a return to the expected pattern of cooling prices.
"Following the significant upside surprise in the February numbers, we expect a clear easing back to have taken place in March," commented economists at Investec.
They said a drop would be largely driven by lower petrol prices as demand continues to recover globally, particularly given that the new data will compare with March 2022, where prices shot higher following Russia's invasion of Ukraine.
Investec also added that "supply chain disruptions and lower shipping costs" could also result in falling goods prices for the month.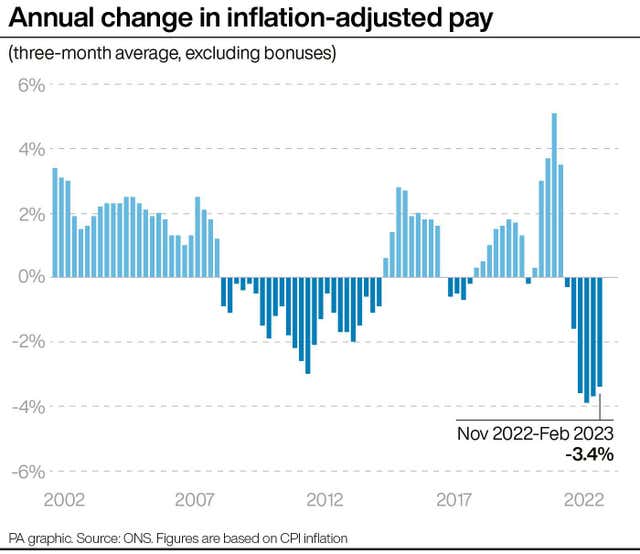 A notable drop in inflation could help mortgage-holders, with Bank of England rate-setters hoping that recent increases to interest rates will result in a firm drop in the inflation rate.
At the Bank's previous meeting last month, it said there were signs inflation was peaking, increasing expectations it could pause rate hikes.
In the previous meeting, interest rates were lifted by 0.25 percentage points to a 14-year high of 4.25%.
The latest inflation update will come a day after the ONS revealed that regular pay excluding bonuses rose by 6.6% over the three months to February, but was down 3.4% once CPI is taken into account.