The average UK house price increased by 5.5% in the 12 months to February 2023, slowing from 6.5% in January 2023, according to official figures.
The typical property value was £288,000 in February, which is £16,000 higher than 12 months earlier but £5,000 below a recent peak in November 2022, the Office for National Statistics (ONS) said.
Annual house price growth in February 2023 was less than half the rate seen in July last year, when it was running at 14.4%.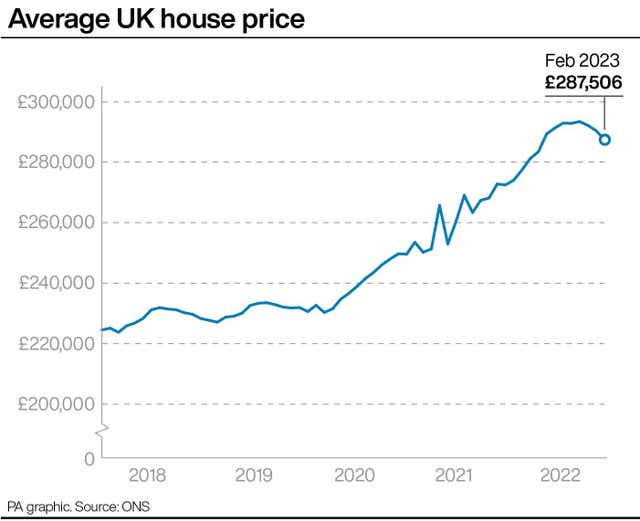 On a seasonally adjusted basis, the average UK house price decreased by 0.3% in February 2023.
Commenting on the report, Tom Bill, head of UK residential research at estate agent Knight Frank, said: "We expect prices to fall by a few per cent this year as more financial pain enters the system but the landing will be comparatively soft thanks to a strong jobs market, savings accumulated during the pandemic, record-high levels of housing equity and the large proportion of people who move because they need to."
The figures were released on the same day the ONS revealed that Consumer Prices Index (CPI) inflation slowed to 10.1% in March, from 10.4% in February.
Inflation remained higher than experts had predicted, as food and drink prices continued to soar.
Jeremy Leaf, a north London estate agent, said: "Worries about inflation persist and buyers want to see value so are flexing their muscles before making decisions."
She added: "Sellers are much more open to negotiate, particularly if they have interest from chain-free first-time buyers."
Jamie Alexander, director at Southampton-based Alexander Southwell Mortgage Services, said: "Average house prices continue to edge down on an annual and monthly basis.
"The property market is under real pressure and the stubborn inflation we have, remaining in double digits again on Wednesday, certainly won't help."
Mark Harris, chief executive of mortgage broker SPF Private Clients, said: "The fall in inflation is welcome and means it is increasingly likely that (the Bank of England) base rate is near its peak.
"Despite the continued high cost of living, green shoots and resilience in the housing market are evident. Lenders expect tightening credit lines over the next three to six months but no credit crunch.
"Pricing on new mortgages continues to trend downwards, providing welcome relief for borrowers, although the rate of falls is slowing."
Average house prices increased over the 12 months to £308,000 (a 6.0% annual increase) in England, £215,000 in Wales (6.4%), £180,000 in Scotland (1.0%) and £175,000 in Northern Ireland (10.2%).
Within England, the West Midlands recorded the highest annual percentage increase in house prices in February, at 8.6%, while London recorded the lowest increase, at 2.9%.
London's average house prices remain the most expensive of any region in the UK, with an average price of £532,000 in February 2023.
Some 90,340 house sales were recorded in February 2023, which was 18.2% lower than February 2022 and 4.1% lower than in January 2023.
The ONS also released figures showing that private rental prices paid by tenants in the UK increased by 4.9% in the 12 months to March 2023, representing the largest annual percentage change since similar records started in January 2016.
The annual growth rate of private rental prices in the UK started to increase in the second half of 2021, the ONS said.
The ONS highlighted a separate report from the Royal Institution of Chartered Surveyors (Rics), indicating strong demand for homes in the rental sector.
Carl Howard, group CEO of Andrews estate agents, said: "Renters are needing deeper pockets and sharper elbows as rocketing demand continues to outweigh the availability of homes to let."