Former US Secretary of State Hillary Clinton has listed shared education and housing as issues that should be "top of our list of priorities," in Northern Ireland.
Mrs Clinton, who is Chancellor of Queen's University Belfast, was awarding honorary degrees to the principals of St Mary's High School Limavady and Limavady High School for their shared education initiative.
The schools, which are next door to each other, are establishing a new shared education campus that will be used by students from both schools.
As well as promoting cross-community education, the campus will boast a range of new and upgraded facilities for pupils.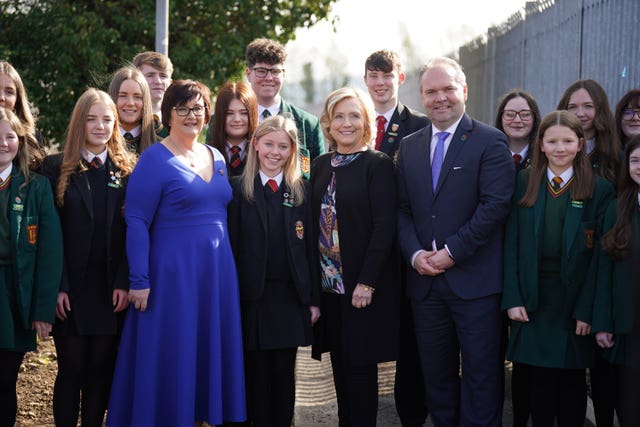 "Because while we have been celebrating the 25th anniversary of the Belfast/Good Friday agreement at Queen's, and it is an enormous achievement for which the people of Northern Ireland deserve all of the credit, we know that the work for peace, prosperity and progress that so many have committed their lives to continues," she said.
"The journey is by no means finished.
"And the work of sharing education and of expanding housing and of working to remove barriers and divisions in neighbourhoods and to tackle persistent poverty and unemployment are ones that have to be at the top of our list of priorities.
"No victory and no defeat is ever permanent.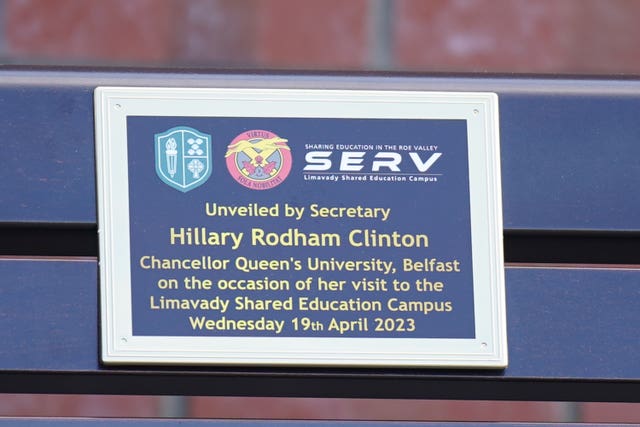 During her visit to the schools, Mrs Clinton unveiled two benches to commemorate their new campus, and met with the head boy and head girl from both schools, before visiting the woodworking classrooms at Limavady High School where she talked with pupils and viewed their projects.
The former first lady waved to the schoolchildren greeting her outside St Mary's High School as she entered the neighbouring school to attend the honorary graduation ceremony.
In her speech at the ceremony, Mrs Clinton paid tribute to Ms Rita Moore and Mr Darren Mornin, the principles of the two schools in Limavady, and said the Good Friday Agreement would not have been reached without the work of teachers.
"There would not, however, be a Good Friday agreement if there had not been teachers, principals, community leaders, citizens who did so much of the work of building and maintaining progress."
Mrs Clinton also said that more should be done to ensure young people want to stay in Northern Ireland.
"We know at Queen's that 33% of school leavers in Northern Ireland leave to seek their futures elsewhere," she said.
"The goal is to ensure that they can choose to remain here and follow their dreams.
"Institutions like this shared campus help build a bulwark against sectarianism and divisiveness, help to create a Northern Ireland where students, parents, members of the community come together in pursuit of common purpose.
"Queen's University's mission is transformation of knowledge and learning of individuals and societies, of leaving its mark on history and the world and that is what today's honouree graduates have each achieved.
"They've led the schools and this community through a great transformation."