Senior civil servants are to be balloted for strikes in an escalating dispute over pay, their union announced.
The FDA said its Executive Committee voted to launch a ballot in response to the Government's decision last week to give civil servants a pay rise of between 4.5% and 5%.
It is the first time the union has approved a national strike ballot over pay in more than 40 years.
"If this is, as I suspect, a tactical decision to use the civil service to send a message elsewhere then not only is it a flawed one, but once again demonstrates that there are those in government who simply do not value the civil service in the way they do the rest of the public sector.
"The FDA is a strong, pragmatic union and our approach with employers has always been led by evidence, persuasion and engagement. There's now no pretence that the Government places any value in constructive dialogue, with no meaningful engagement on the substance of the 'offer', despite repeated assurances of an enhanced consultation process.
"The Government is sending the clearest possible signal that it wants to treat the civil service differently from the rest of the public sector. That value, or lack of it, can even now be quantified by a number, rather than an anonymous briefing or a condescending note on someone's desk.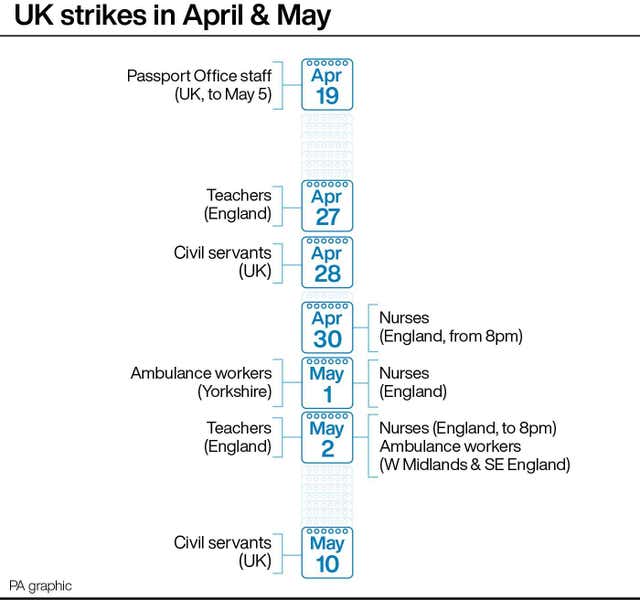 The FDA's membership spans the civil service right up to Permanent Secretaries. It includes policy advisers, diplomats, lawyers, tax professionals, economists, statisticians and museum curators.
The union supports clerks in Parliament, represents solicitors and barristers in the Crown Prosecution Service, the Crown Office and Prosecutor Fiscal Service.
Following the Government's pay announcement, Prospect said its members in the civil service will strike on May 10 and June 7.
The Public and Commercial Services union has been taking industrial action for months over pay, jobs, pensions and conditions.
Its members in the Passport Office launched a five-week strike earlier this month.
In response to the FDA's move, a Government spokesman said: "Our pay remit guidance recognises the hard work and vital importance of civil service staff by offering the highest pay increase in 20 years, in line with forecast wage growth across the economy.
"The deal is also fair to the taxpayer and supports the Government's promise to halve inflation this year, which will help everyone's incomes go further.
"Industrial action should always be a last resort and dialogue with unions will continue.
"We urge them to recognise what is reasonable and affordable, as the whole country faces these cost-of-living challenges."