The rate of inflation dipped last month, according to official figures, offering hope to households that recent pressure on budgets could begin to ease.
Inflation fell back to 10.1% in March, returning to decline after a surprise rise to 10.4% in the previous month.
Nevertheless, the decrease was less than most economists had expected and will provide scant relief for households, who witnessed another surge in the price of everyday essentials such as bread.
– Does falling inflation mean prices are going down?
Sadly, the figures mean that prices are still going up.
It means that prices were 10.1% higher in March than they were over the same month last year.
Prices are still rising but the rate of this increase has slowed down slightly.
– Why did inflation ease in March?
A key factor for inflation readings is timing. Data for this March was compared with the same month last year, meaning that products which saw their price spike March last year could help contribute to lower inflation this time.
The Russian invasion of Ukraine in late February 2022 caused the price of motor fuel and heating oil to jump shortly after.
As a result, the new data from the Office for National Statistics (ONS) showed that current fuel prices have dropped in comparison, driving the ease in overall inflation.
Other products such as furniture and clothing have seen prices continue to rise but at a slower rate than in February, also contributing to the fall.
– Is the worst behind us?
Last month, the Bank of England said it believed that we have passed peak inflation and these figures help point towards this.
The rate has eased back from a peak of 11.1% in October and is predicted to fall more sharply soon.
Lower petrol prices and an easing to global supply chain disruption are expected to support a continued decline in overall inflation.
Meanwhile, a drop in energy prices is expected to contribute to a significant fall for April.
However, the continued price cap at £2,500 annually for a typical home means households will feel little change.
The latest figure also means that inflation has returned to the same rate it saw in January, meaning that despite expectations of a notable cool-down, little progress has been made after a surprise increase to inflation was recorded for February.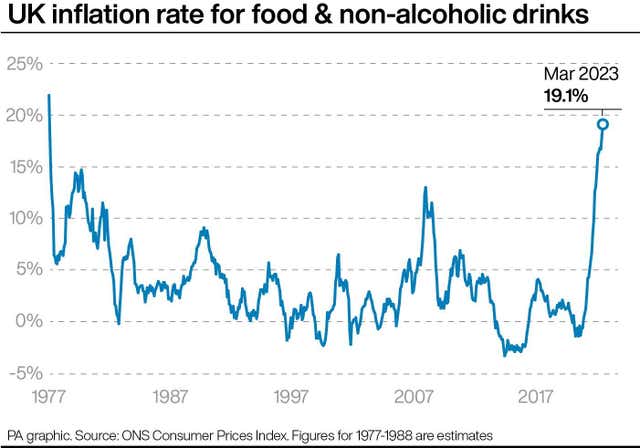 The Office for Budget Responsibility (OBR) has predicted that inflation will fall to 2.9% by the end of 2023.
It is hoped that falling global commodity prices will start to bring down food price inflation soon, although supermarket bosses have indicated that inflation in the sector is still not over.
Households are also expected to first feel the benefit of falling energy prices in July, when a new energy price cap is announced.
The most recent projection from experts at Cornwall Insight was that the cap for a typical home could drop to £2,024.58 from July. Households are currently paying an average of £2,500 due to Government support.
Cornwall is predicting a similar rate in October, when the cap will again be readjusted. Households will be likely to see a clearer benefit at this time due to higher usage of energy to keep their homes warm.
– Will inflation hit Government targets?
The OBR has predicted inflation will reach 2.9% by the end of the year but Prime Minister Rishi Sunak and Chancellor Jeremy Hunt announced a more modest target.
In January, Mr Hunt pledged to "halve inflation" over the year.
Inflation has now returned to the level seen in January, meaning little progress has been made on this target.
It will take months before it is clear whether the Government could miss this but economists have said the target currently looks a distance away.
Ed Monk, associate director of personal investing at Fidelity International, said: "The Government promise to halve inflation, and the OBR forecast of it hitting 2.9% by the year's end, both look a long way off."
– Are wages keeping up with inflation?
Sadly not. The cost crisis is being compounded by the fact that pay rises are failing to match price hikes.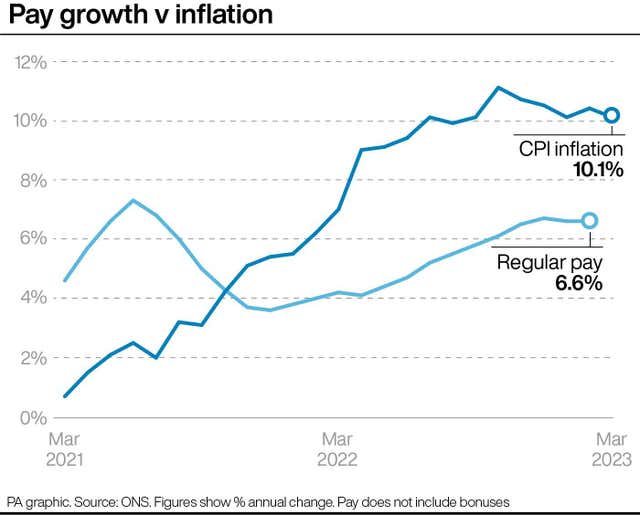 However, this marked a 3.4% decline with CPI inflation taken into account over the period.
– What does falling inflation mean for interest rates?
The Bank of England has increased interest rates for 11 consecutive decisions, with its latest hike taking rates to 4.25%.
It has said the increases are designed to help drive inflation lower.
Some economists had predicted in March that the most recent Bank rise could be the last.
However, experts, such as Abrdn's senior economist Luke Bartholomew, said that the latest data means another increase to 4.5% is "likely" when the central bank meets again next month, putting further pressure on some mortgage-holders.