Former SNP chief executive Peter Murrell has been seen in public for the first time since his arrest.
Nicola Sturgeon's husband was detained earlier this month and questioned by detectives for 11 hours before being released without charge "pending further investigation".
Police investigating the party's finances also arrested the then SNP treasurer Colin Beattie on Tuesday, who was later released without charge, while a motorhome which was intended to be used for party campaigning was seized from the driveway of Mr Murrell's mother.
Mr Murrell was spotted by the PA news agency leaving the home he shares with ex-first minister Ms Sturgeon near Glasgow on Thursday morning.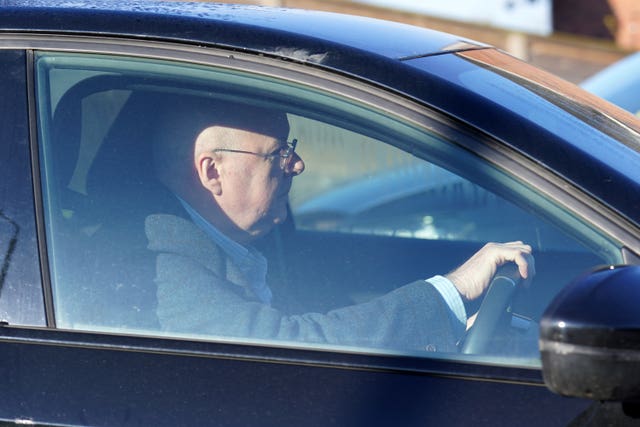 Mr Beattie, who is also an SNP MSP, served as treasurer from 2004 to 2020, and again from 2021.
Speaking to the BBC, Mr Yousaf said he hopes to soon appoint someone to what is usually and elected position.
He said: "We'll appoint a treasurer in the coming days, but of course, as party leader, I'll make sure I'm overseeing the finances of the party. But we'll appoint a new national treasurer as soon as we can."
The post is usually one elected by members, but Mr Yousaf said the party is "not going to have time" to elect someone to the role, and he ruled out continuing in the job alongside being party leader and First Minister.
Opposition politicians hit out at the First Minister, with Scottish Labour deputy leader Jackie Baillie saying Mr Beattie's decision to resign was the "right thing" but it was taken "by the wrong man", while Scottish Conservative chairman Craig Hoy suggested the ex-treasurer should have been suspended from the party.
Scottish Liberal Democrat leader Alex Cole-Hamilton said the vacancy is the "least appealing" in Scottish political history.
The arrest this week has ensured the police investigation into the SNP's finances has continued to overshadow the early days of Mr Yousaf's tenure.
Police announced Mr Beattie had been taken into custody in the hours before the First Minister was due to lay out his priorities for Scotland under his premiership.
Deputy First Minister Shona Robison said on Wednesday it was "frustrating" that the Scottish Government's business is being overshadowed.