Patients are suffering due to the ongoing dispute between junior doctors and the Government, the head of the Academy of Medical Royal Colleges said, as she appealed for a third party to be brought in.
Professor Dame Helen Stokes-Lampard said there needs to be progress on talks, and urged both sides to show some flexibility to resolve strikes and move forward on pay.
Last week, the British Medical Association (BMA) asked the Government to enter talks facilitated by conciliation service Acas to end the bitter dispute.
However, Downing Street said there will be no talks unless junior doctors abandon their starting position of a 35% pay rise and call off strikes.
Sir Chris Wormald, permanent secretary at the Department of Health and Social Care, told MPs on Thursday that third-party mediation is "not the Government's preferred route, that is not something we would be taking up".
That was on top of thousands of appointments already cancelled or delayed due to strikes by other unions, including the Royal College of Nursing (RCN).
Analysis by the PA news agency shows some 483,085 hospital appointments and procedures in England have been rescheduled due to strike action since December.
Prof Stokes-Lampard told BBC Radio 4's Today programme: "We are a week on from the peak of the most disruptive junior doctors' industrial action in the history of the NHS.
"You've heard the headline figures of 196,000 procedures delayed or postponed. Actually, the reality is profoundly more than that. That is only counting what has been counted. Many hospitals didn't return data and general practice wasn't asked for data about this.
"And that is going to take an awful long time to make up, and in the meantime patients are suffering.
"But also (in) this dispute, which nobody wants, the doctors are suffering too.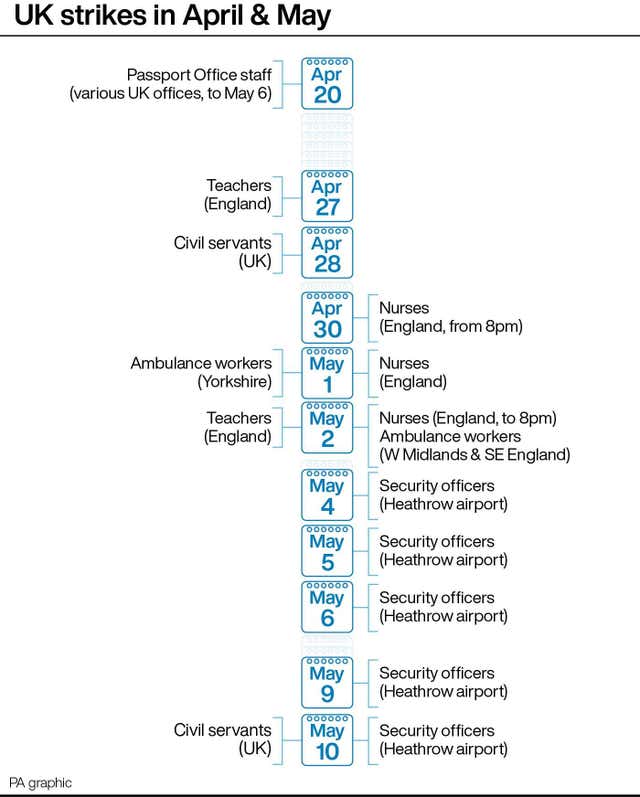 "What worries us as an academy – and we are very much not a trade union, we are the membership body for doctors – is that there doesn't seem to be any preliminary talks about talks.
"We're urging some flexibility on both sides – the junior doctors committee (of the BMA) and of course the Department of Health and Social Care."
She said it "doesn't matter who or what" the third-party intermediary is, things just need to move forward.
She said she is "gravely concerned" for patients who are missing procedures or facing delays and who are "in pain" or suffering.
"They are angry, they are frustrated and they are burnt out, and they are leaving our profession in droves. They need looking after."
She said doctors are balancing the dilemma of the "long-term harm" done to the NHS by chronic underfunding with the "short-term harm" caused by the strikes.
She said there are different views among doctors, but everyone wants a solution.
She added: "What we do want is for both parties to make some flexibility, make some compromise.
"Come out of your entrenched positions. And please, please start talking. Whatever it takes to start talking, let's do it, because this won't be resolved without talks."
He told the Today programme: "Doctors are the solution, not the problem…
"We have got the longest waiting lists ever. It is not the strikes that created those waiting lists, it is chronic underfunding. It's running down the workforce."
He rejected any suggestion that the BMA is entrenched and said it has approached Acas for it to act as independent arbiter.
"Do we have any preconditions? No, we don't. This is all coming from the Government side who want to negotiate from a position where they have already decided what the answer is."
Asked about the BMA pay demand, he said: "People are tied up on this 35% figure.
"There is no number that is set in stone here – it is the principle of restoring pay that has been lost in its value. In order to discuss what that means and how that is achieved, it needs people to sit around the table.
"This Government does not want to sit around the table. It does not want to have any kind of independent arbitration of this because it's worried that it might cost it money."
The intervention by the Academy came as health chiefs fear the prospect of unions including the BMA and RCN co-ordinating strikes or holding them in sequence, which would have a massive impact on the NHS.
Ambulance workers from Unite announced on Wednesday that they will walk out alongside nurses and teachers on May 2.
An RCN nurse strike is already scheduled from April 30 to May 2 following a ballot which rejected a 5% pay deal.
Elsewhere, NHS national medical director Professor Sir Stephen Powis said the strikes are having a "colossal impact" on planned care in the NHS.
And, on Wednesday, Sir Simon Stevens, former head of the NHS, writing in The Spectator, said it is "clear the Health Department's industrial relations strategy isn't going to plan".