The carcass of a minke whale which washed up on a Scottish beach has been removed.
The female was spotted in North Berwick on Wednesday and once the tide receded, the 31ft (9.5m) long animal washed ashore on to West Bay Beach.
On Friday morning, workers spent about three hours from sunrise retrieving the carcass.
A spokesman for East Lothian Council said: "The surface sand has been raked over but the advice to visitors is to avoid this area, including keeping dogs away, until after this afternoon's high tide which will wash away any remaining debris."
The area around the whale had been cordoned off by police, and people reported the stench of the whale several streets away from the beach front.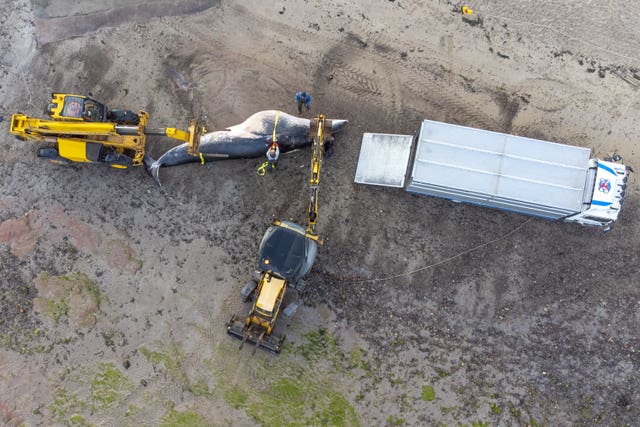 She added: "It was first spotted further out near Craigleith island by the skipper of one of our seabird wildlife boat trips.
"The Scottish Seabird Centre supports a Whale and Dolphin Conservation (WDC) Shorewatch site in North Berwick harbour.
"Shorewatch is a network of volunteers trained to monitor whales and dolphins at sites around the Scottish coastline, raising awareness and capturing vital data to protect these amazing species.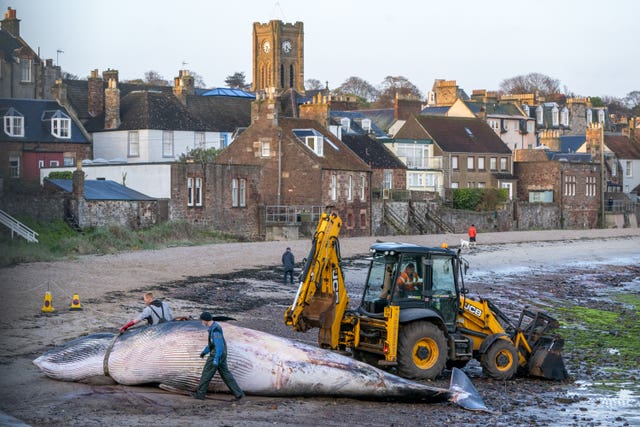 The stranding was also reported to the Scottish Marine Animal Stranding Service Scheme, which collates and analyses all reports of stranded cetaceans and can carry out autopsies to understand more about the health and ecology of the animals.
Common minke whales are the smallest of all baleen whales, and although it is not unusual for several to be found in close proximity to each other in feeding grounds off the west coast of Scotland, they are happy in their own company.
They are found in oceans all over the world, and prefer cooler temperatures and live on a varied diet of krill, schooling fish and larger ones too.