The prospect of an influx of US investment in Northern Ireland is "real" and several investors are preparing to press the button on deals, a White House special envoy has said.
Joe Kennedy, who is special envoy for Northern Ireland, said a number of senior executives he has spoken to understand that the region now represents a "unique investment opportunity".
Post-Brexit trading arrangements give Northern Ireland access to sell unfettered within the UK internal market and into the European single market.
"I think there are some companies that are ready to make that investment today – I think there are some companies that are finalising some of these plans," Mr Kennedy told the PA news agency.
The dual market access was a key provision of Brexit's Northern Ireland Protocol.
The protocol was agreed by the UK and EU to ensure a free-flowing Irish land border post Brexit. It did that by creating new regulatory and customs checks on the movement of goods from Great Britain into Northern Ireland. That proved deeply unpopular with unionists and the DUP collapsed powersharing at Stormont in protest.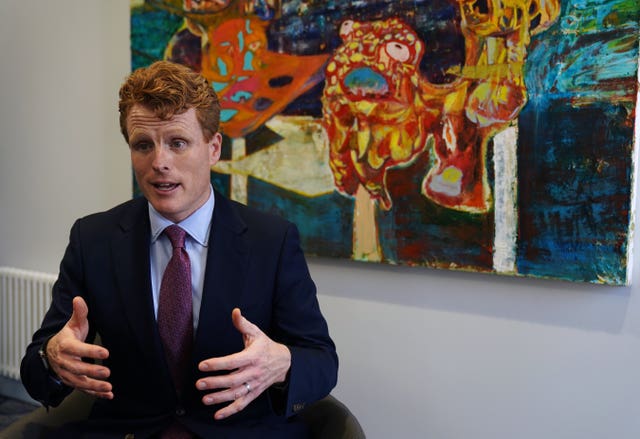 The DUP has insisted the new accord does not go far enough to address its concerns around sovereignty and the application of EU law in Northern Ireland and the party is maintaining its blockade of Stormont until it receives further legal assurances from the UK Government.
Mr Kennedy, who was appointed by President Joe Biden to drive economic growth in Northern Ireland, said the lack of a devolved administration was a factor in the investment moves being mulled by US companies.
He said a return to powersharing would help to remove that question mark.
"It is a factor, without question," he said.
"I mean, look, any business leader, particularly for those that are looking to expand to a new place, is going to want to see clarity around a political structure, around regulatory framework and around a process by which the rules are set, and those rules can be altered or moved.
"That's a pretty basic fundamental question that they want to have some clarity around. That being said, there's other companies that are already here that have made a significant investment already in Northern Ireland."
Mr Kennedy highlighted that more than 200 US companies already have footprints in Northern Ireland.
He said the lack of ministerial executive at Stormont was not a "binary" factor, and it would not necessarily put off all would-be investors, but he said a return to Stormont would make Northern Ireland a more attractive option.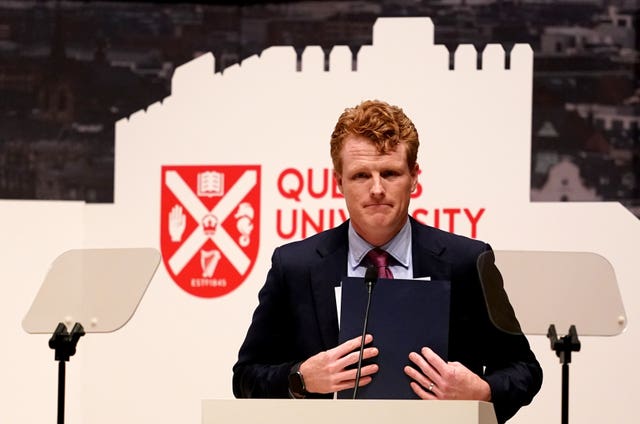 "There are others that are larger investments to the tune of potentially millions, tens of millions or higher.
"Before an executive makes that decision, they're going to want to see certain things and have real confidence that the framework upon which they made that investment thesis isn't about to change and so that might take a little bit longer. The sooner those political questions get answered, they can start to kind of polish off those business plans and say this is really what that looks like."
Mr Kennedy said some of those larger companies would likely wait to see how the Windsor Framework operated in practice, particularly the Stormont Brake mechanism that gives a minority of MLAs the ability to formally request the UK Government to veto the application of specific new EU laws in Northern Ireland.
"My interactions with a number of those business leaders, they're aware of the opportunity in Northern Ireland, they're well-informed folks, they follow geopolitics, they understand the impact that a Windsor Framework might have," he said.
"They understand, again, largely from some competitors and some of their own footprints, of the access to talent that is here. Having a clarity around those political questions can only help and it will be a benefit for them to also understand this is what a Windsor Framework looks like when it's actually in action, this is what a Stormont Brake looks like, when it can be executed and how it's executed, and who executes it and how it's done, how often it's going to be done.
"All of that experience will just lead to answering some questions that I think will be really helpful to some of these businesses as they look at this place and say: 'Hey, this is great, we just need to see a little bit more.'"
The former congressman said he had detected an "excitement" among the executives he had spoken to about the potential benefits of an investment in Northern Ireland.
"There have obviously been some larger question marks around a political process and the larger scale political uncertainty that has gone back for several years," he said.
"With those questions now, hopefully, finally clarifying, I think there is a unique opportunity for Northern Ireland."